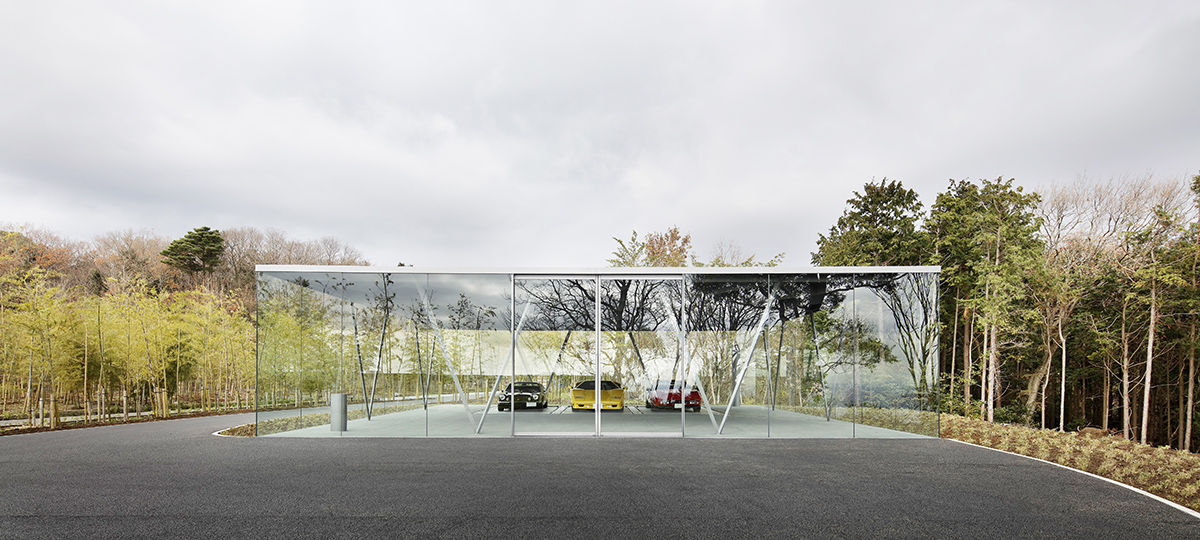 GALLERY U/a
GALLERY U/a is an annex for storing supercars, located just behind VILLA U/a completed in 2012 (cf. VILLA U/a).
The first inspiration was a vague image of resplendent automobiles outstanding among a landscaped bamboo forest. A building almost invisible is rather preferable for enhancing those main characters, thus it resulted in an entirely transparent figure except its thin roof as possible. The flat cuboid, consisted of a square of 13.5m on a side, elevated 3.5m high, is completely glazed on all sides, and features an extremely light-weight steel construction.
The idea of the structural design is ascribed to the following two principles in the history of architecture. One is a catenary curve : originated from the Franciscan priest, Carlo Lodoli, who once proposed a small windowsill delineating the catenary curve at the cloister of San Francesco della Vigna in the early 18th century Venice. The theory was applied to the lattice pattern beams tapering towards edges. The other is a V-shaped column onto which the upper loads are transferred: a memory of Viollet-le-Duc's conceptual scheme titled Marche couvent proposed in 1865. The column itself is tapered toward the base as well, so that it appears even more slender.
The barely perceivable object evokes an intensity of ephemeral transparency, a glamour represented in Shorin-zu Byobu (folding screen with painting of pine forest) drawn by Tohaku Hasegawa in the 16th century Japan.
LOCATION

Shizuoka, JP

PROGRAM

Private gallery for super cars

YEAR

2019

SIZE

182.25 sqm

STRUCTURE

RC + steel

LEAD ARCHITECT

Satoshi Okada

TEAM

Lucia Rocchelli, Lisa Tomiyama

COLLABORATORS

STRUCTURAL DESIGN:

Hojo Structure Research Institute

MECHANICAL ENGINEERING:

Akeno Facility Resilience

CONTRACTOR:

Daido Kogyo Co., Takahashi Kogyo Co.

PHOTO CREDITS:

Hiroshi Ueda,Satoshi Shigeta

AWARDS

PUBLICATIONS