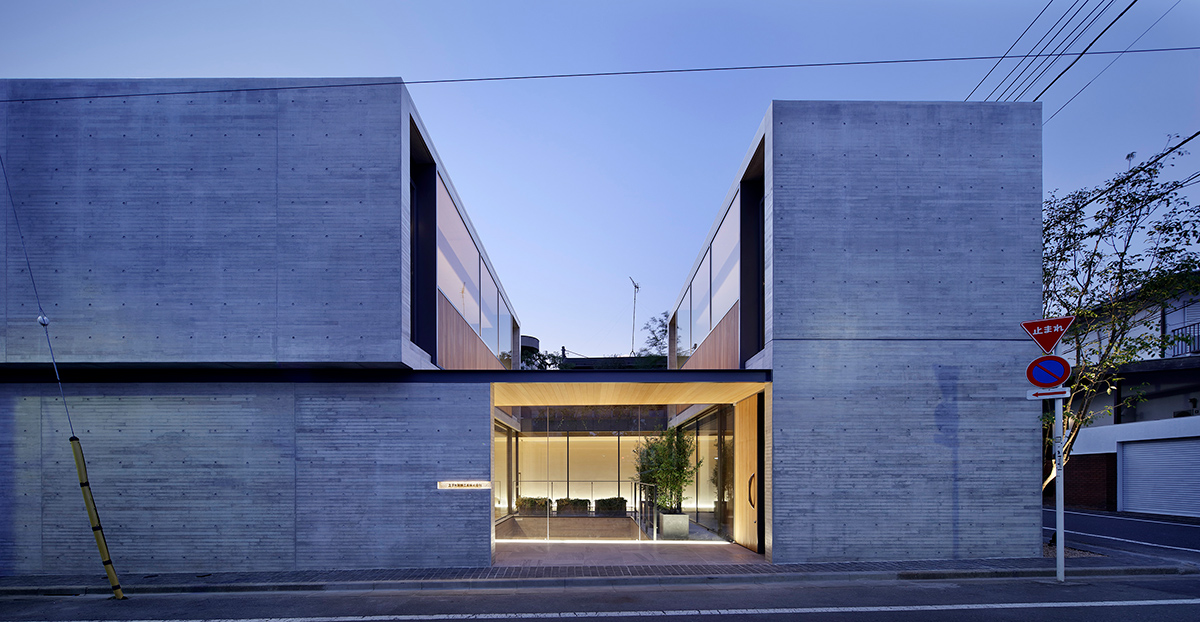 Y HEADQUARTERS BUILDING
Small, comfortably homelike offices are becoming an emerging typology to counteract the alienation of long working hours in huge headquarter complexes.
So far many poor office buildings – in Japanese jargon pencil buildings- hosted employees of medium to small size companies.
Y HEADQUARTERS BUILDING sets itself apart from this category because of few key reasons:
1. it belongs to a small company catering for high quality services: it therefore requires multiple individual spaces where each worker may concentrate;
2. on the other hand it requires transparency and overall permeability to encourage human relations;
This refined headquarter hosts 15 employees and is located in a residential district of downtown Tokyo. It is a composition of two volumes facing each other across a sunken garden. The block on the right hand side faces a street junction and is used as an interface with the public; the one on the left contains the workstations. The two volumes overlook onto a central void through entirely glazed facades; this helps remarkably to set a visual communication between employees and customers and visitors.
LOCATION

Tokyo, JP

PROGRAM

Office

YEAR

2018

SIZE

497 sqm

STRUCTURE

Reinforced concrete

LEAD ARCHITECT

Satoshi Okada

TEAM

Tatsuya Terada, Lisa Tomiyama

COLLABORATORS

STRUCTURAL DESIGN:

Hojo Structural Laboratory

LANDSCAPE DESIGN:

SOLSO

EARTHEN WALL:

Naoki Kusumi, Sakan Co. Ltd.

GLASS SANITARY WARES:

Takahiro Tsuchihashi

CONTRACTOR:

Watanabe Kensetsu Co.

PHOTO CREDITS:

Satoshi Shigeta