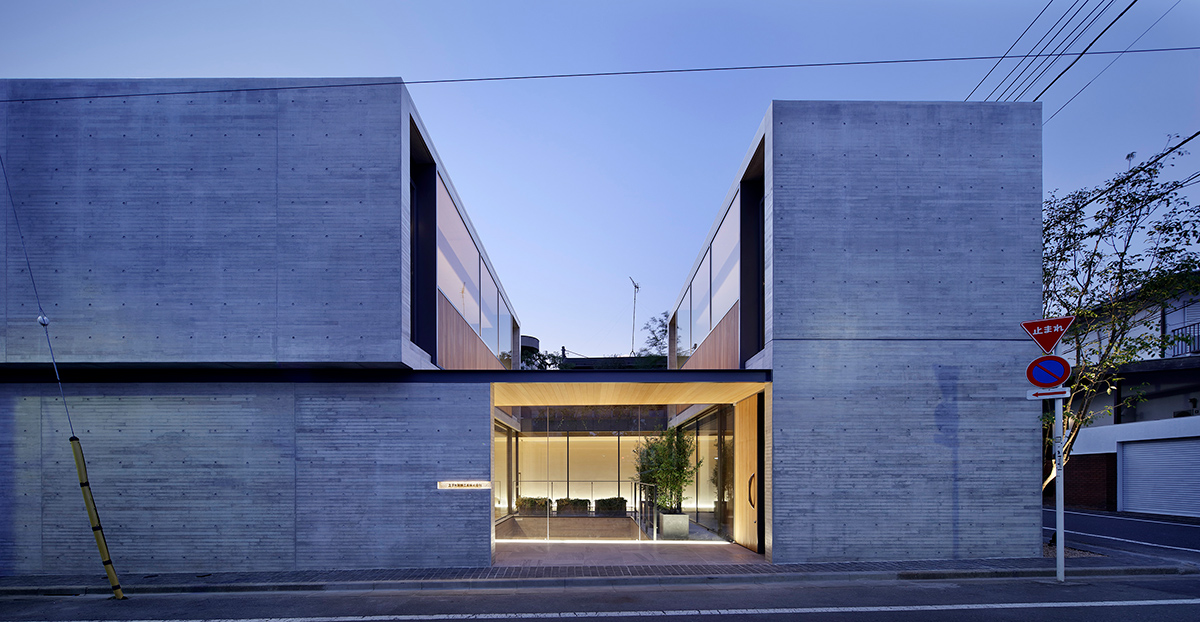 HEADQUARTERS Y/k
HEADQUARTERS Y/k is a head office building located at the edge of a residential district just behind a band of commercial buildings facing to a major thoroughfare bound for Ikebukuro, one of the biggest satellite cities in Tokyo.
During the late 20th century in Japan, thousands of poor office buildings called "pencil building" have held employees of medium to tiny size companies. Whereas, nowadays when a remote working is being recognised, a small but comfortably homelike office building is emerging as a new category counteracting the alienation of long working hours in a huge headquarter complex. This company catering for high quality services demanded multiple individual spaces where each worker may concentrate, and a spatial transparency to encourage and smooth human relations among fifteen career employees.
Consisted of reinforced concrete structure, the three storeyed building is composed of two wings separated with a courtyard. The right facing a crossroad is dedicated to an interface with visitors; while the left serves for workstations. Those two confront each other over the central void through entirely glazed walls; which remarkably helps to set a visual communication between employees and customers.
Japanese traditional technique of carpentry and plastering enrich the building overall; the exterior bared concrete shows a delicate expression with 50mm pitched horizontal stripes by a minute timber formwork, and the interior finishes are sophisticated with handcrafted details for a warmful tactility.
LOCATION

Tokyo, JP

PROGRAM

Office

YEAR

2018

SIZE

497 sqm

STRUCTURE

Reinforced concrete

LEAD ARCHITECT

Satoshi Okada

TEAM

Tatsuya Terada, Lisa Tomiyama

COLLABORATORS

STRUCTURAL DESIGN:

Hojo Structural Laboratory

LANDSCAPE DESIGN:

SOLSO

EARTHEN WALL:

Naoki Kusumi, Sakan Co. Ltd.

GLASS SANITARY WARES:

Takahiro Tsuchihashi

CONTRACTOR:

Watanabe Kensetsu Co.

PHOTO CREDITS:

Satoshi Shigeta