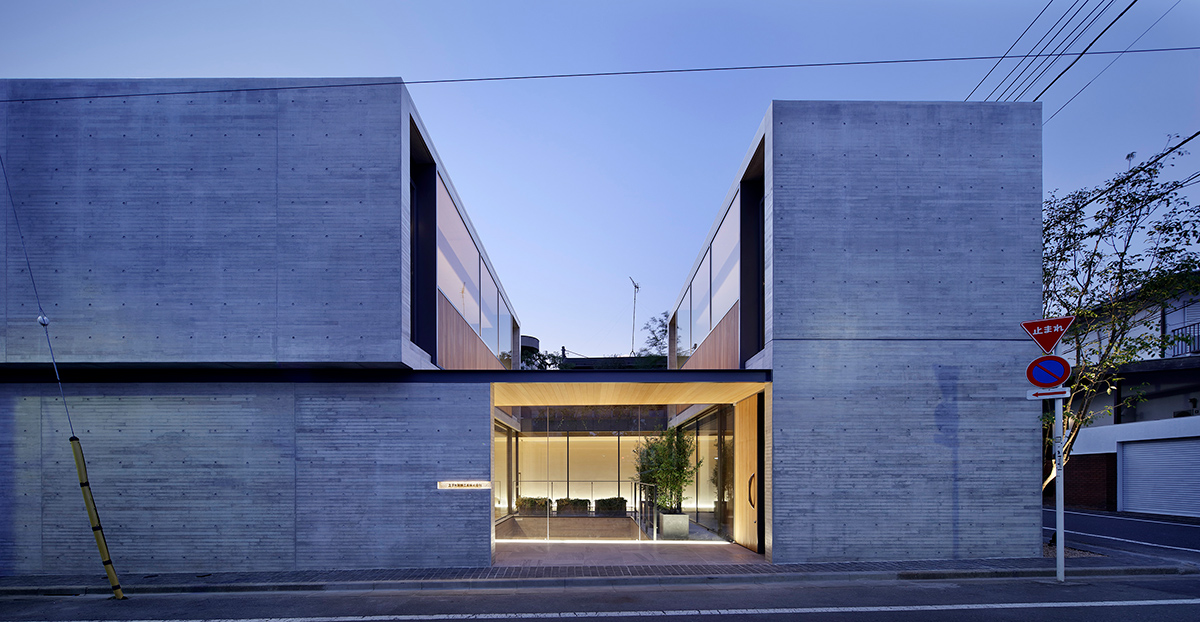 HEADQUARTERS Y/k
HEADQUARTERS Y/k is a head office building located at the edge of a residential district alongside a band of commercial buildings facing the major thoroughfare bound for Ikebukuro, one of the biggest satellite cities in Tokyo.
During the late 20th century in Japan, thousands of low-income office buildings - known as "pencil buildings" - held small to medium-sized companies. While remote work is continuously on the rise today, small, homely office buildings are simultaneously emerging as a new form of office architecture to counteract the alienation of long working hours in massive corporate complexes. This client company, catering for high quality services, requested for individual spaces where each worker may concentrate, while maintaining a spatial transparency to encourage human connection among their employees.
Consisting of reinforced concrete structure, this three-story building is composed of a central courtyard flanked by two wings. The right wing, facing a crossroad, is an area dedicated to welcome customers; the left wing serves as the employees' workstations. The two sides face one another over the central outdoor space through entirely transparent glass walls, establishing a visual communication between the employees and the customers.
Traditional Japanese techniques of carpentry and plastering enrich the building overall. The exposed board-form concrete - 50 mm horizontal stripes made possible by custom timber formwork - emulates the complexity of wooden construction, blending seamlessly with the handcrafted carpentered details of the interior.
LOCATION

Tokyo, JP

PROGRAM

Office

YEAR

2018

SIZE

497 sqm

STRUCTURE

Reinforced concrete

LEAD ARCHITECT

Satoshi Okada

TEAM

Tatsuya Terada, Lisa Tomiyama

COLLABORATORS

STRUCTURAL DESIGN:

Hojo Structural Laboratory

LANDSCAPE DESIGN:

SOLSO

EARTHEN WALL:

Naoki Kusumi, Sakan Co. Ltd.

GLASS SANITARY WARES:

Takahiro Tsuchihashi

CONTRACTOR:

Watanabe Kensetsu Co.

PHOTO CREDITS:

Satoshi Shigeta