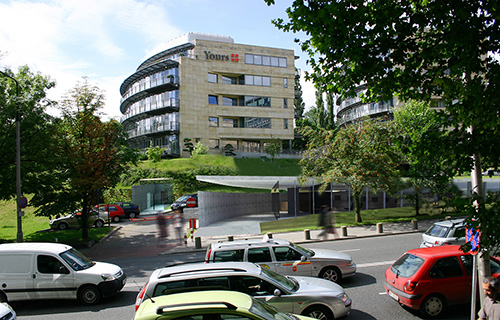 WARSAW GALLERY OF PHOTOGRAPHY(POLLAND)
The design of the Warsaw Gallery of Photography has been commissioned to the photographer Tomasz Gudzowaty by the Yours Gallery Foundation, whose aim resides in the promotion of photography in the Polish society and in the polish art scene.
Being located just a stone's throw from the monumental Krzyzy Plaza, the gallery is included within the boundaries of a urban green belt, thickly vegetated and hitherto under preservation. This green zone spans without interruptions from the southern side of the National Museum park along Ksiazeca street, embracing the building site from its eastern edge. The lot is moreover defined by a private driveway leading to an underground garage. Due to the mild slope of the terrain from the Plaza eastwards, the western corner of the site is approximately 2 meters higher than the eastern one; it 's surface is also slightly corrugated at the foot of the hill.
The Gallery is partially buried in this hill, being developed on three underground levels. The brief required required to leave untouched the turf laying between/connecting the hill and the above mentioned green corridor: after the first site visit, I envisioned to enclose the gallery in the hill by peeling off its superficial layer and shaping its roof at the level of the highest point in the topography.
LOCATION

Warsaw, Poland

PROGRAM

Museum for photography

YEAR

in progress

SIZE

1900 sqm

STRUCTURE

Reinforced concrete

LEAD ARCHITECT

Satoshi Okada

TEAM

Arup Warsaw

COLLABORATORS

STRUCTURAL DESIGN:

Mitsuhiro Kanada (Ove & Arup London)

PERSPECTIVE IMAGES:

Satoshi Okada architects

PUBLICATIONS