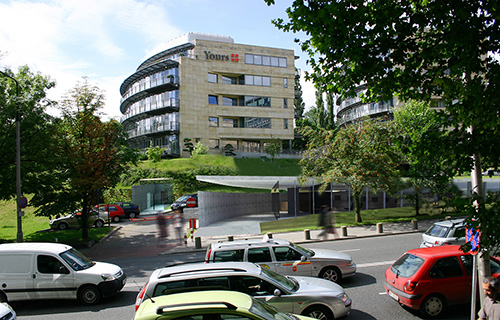 WARSAW GALLERY OF PHOTOGRAPHY(POLLAND)
The design of the WARSAW GALLERY OF PHOTOGRAPHY was commissioned for photographer Tomasz Gudzowaty by the Yours Gallery Foundation, an organization who aims to promote photography in Poland, particularly within the Polish art scene.
The gallery is situated near the famous Krzyzy Plaza, both within a preserved urban green belt. This green zone spans from the southern side of the National Museum Park along Ksiazeca street, encapsulating the gallery from its eastern edge. The lot is further defined by a private driveway leading to an underground garage. The mild upwards slope of the terrain from east to west, as well as its uneven topography defines the site as unique to its own.
The design of the bermed Gallery is made up of three underground levels. With requirements delineating the preservation of the green corridor, I envisioned enclosing the gallery within the hill by peeling off its ornamental layer and placing its roof at the level of the highest point in the site's topography.
LOCATION

Warsaw, Poland

PROGRAM

Museum for photography

YEAR

in progress

SIZE

1900 sqm

STRUCTURE

Reinforced concrete

LEAD ARCHITECT

Satoshi Okada

TEAM

Arup Warsaw

COLLABORATORS

STRUCTURAL DESIGN:

Mitsuhiro Kanada (Ove & Arup London)

PERSPECTIVE IMAGES:

Satoshi Okada architects

PUBLICATIONS