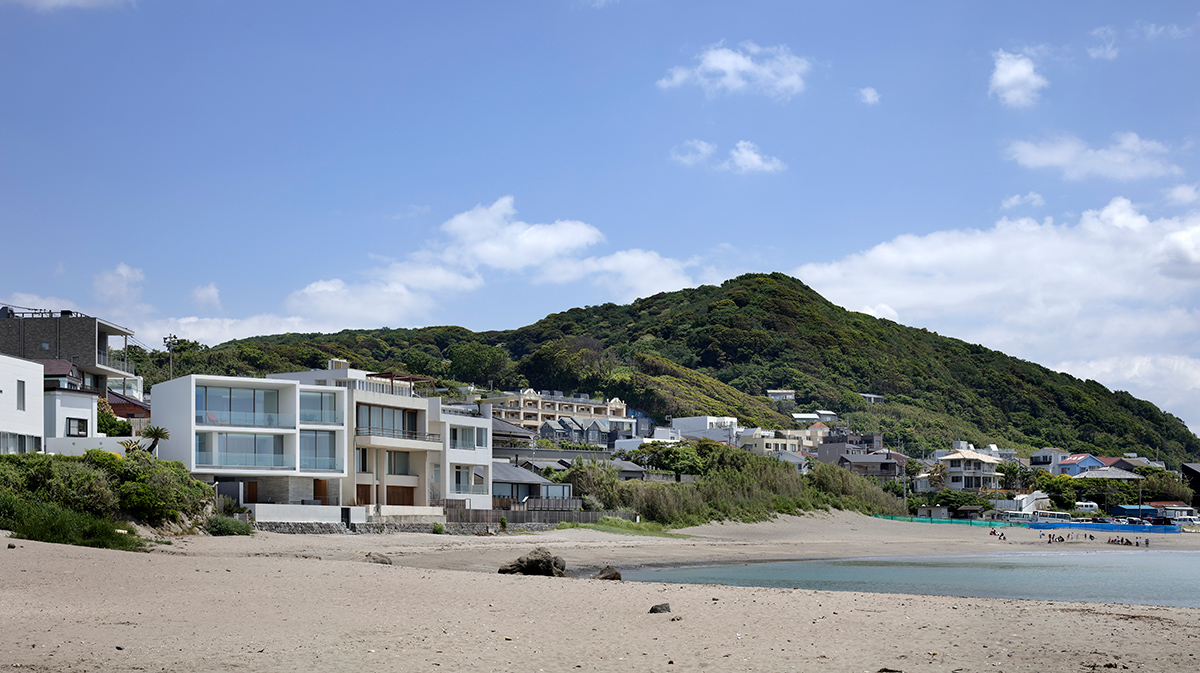 VILLA Y/h
VILLA Y/h is a weekend house, clung to a precipitous land directly linked to a beach by 9m level difference.
The fan-shaped site is located in a small town along the Hayama Coast, 60km south of Tokyo, one of the most popular seaside retreats onto the Sagami Gulf. The three storeyed building, constructed of reinforced concrete structure, is almost hidden from the public road nearby, whereas it reveals its distinguished visage to the ocean.
The living spaces devoted to the upper two floors, slightly slanted from the beach-side facade, command a superb view of Mt.Fuji appreciated far beyond. Continuous to the adjacent broad terraces, the high ceiling space, lit by skylights featuring several shapes with louvres, is completely liberated by the large glass walls being drawn aside. The mid storey serves for private spaces of the master bedroom and main bathroom entirely glazed toward the sea; whereas the rooms half buried into the inclined terrain secure a tranquility and an intimacy by dimness. The bottom floor is dedicated to a guestroom, bathrooms, storages and a spacious platform; the outdoor living is equipped with a fireplace and a moderate kitchen for barbeques, connected to the beach for marine sports or strolling along the strand.
The interior space is finished with a light beige plastered wall and floor tiles, blackish brown granites proportionally deployed, further enriched by exquisite details for wooden handcrafted furnishings with a Japanese sophisticated carpentry. The exterior bared concrete shows a delicate expression with 50mm pitched horizontal stripes by a minute timber formwork on the ground floor walls, while the upper two storeys painted white as a signifier of the realm for dwelling.
LOCATION

Hayama, Kanagawa, JP

PROGRAM

Private residence

YEAR

2019

SIZE

470 sqm

LEAD ARCHITECT

Satoshi Okada

TEAM

Tatsuya Terada, Lisa Tomiyama

COLLABORATORS

STRUCTURAL DESIGN:

Hojo Structural Laboratory

MECHANICAL DESIGN:

Akeno Facility Resilience

LIGHTING DESIGN:

Sirius Lighting Office

CONTRACTOR:

Mizusawa Komuten

PHOTO CREDITS:

Satoshi Shigeta