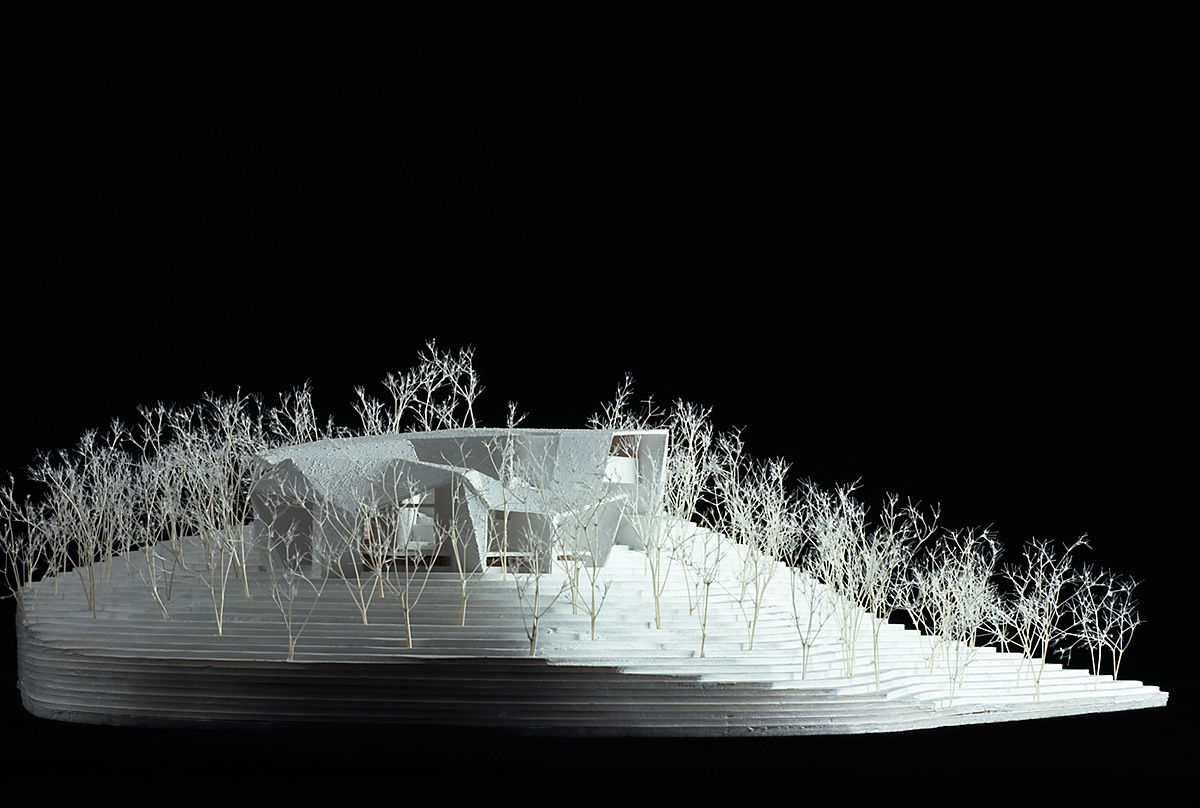 VILLA W
villa in Kyu-Karuizawa was designed for a vacation house. The town of Karuizawa, historically one of the most popular summer resorts within easy reach from Tokyo, is located in mountain areas in the east end of Nagano Prefecture. About 1000 meters above sea level, the site is located on a tip of ridge, delineating a fan shape sloping down by 10 meters gap from the approach road at the top to the wide-based bottom along a public road.
The building is basically composed of both 9 hard cores three dimensionally irregular shaped and the spaces between these cores. Along the sloping terrain, the cores are radially stepping down from the southwest to the northeast with drawing an arc. From space to space, inhabitants can appreciate different views from different places in the house; from the living room at the very bottom, they can enjoy almost 180 degree wide range panorama down below. On the other, the stepping patio inside the arc is also continuous from the living room.
The main floor level of living and bedrooms is 6.27 meter down from the entrance level, from which dining and kitchen is 0.57 meter up on the westward by small steps, bathroom is 0.76 meter up to the east end after the bedrooms. The dining leads to utility by 2.47 meter below the guest room on the west. The home office and library is on the same level with the guest room, which is above the dining, but it is articulated by the slender core where the bathroom to the guests is contained.
It is made of reinforced concrete structure, 9 cores are equivalent to the container structures when I invented CSS in Gallery in Kiyosato. Cores include secondary spaces which should rather be concealed. The space in between the cores is transparent for both outward and inward of the arc. On the exterior view of the villa, a series of roofs is folded up and down, but is gradually coiling itself in accordance with the terrain form. Between cores, each roof has each deep eave for activating the life even in rainy days. The cores and the glass walls are from side by side showing the light and shadow effect to the surroundings.
LOCATION

Karuizawa, Nagano Prefecture,JP

PROGRAM

Villa

YEAR

2006

SIZE

419.0 sqm

LEAD ARCHITECT

Satoshi Okada

TEAM

Isao Kato

COLLABORATORS

STRUCTURAL DESIGN:

Hirokazu Toki

PHOTO CREDITS:

Kenichi Suzuki