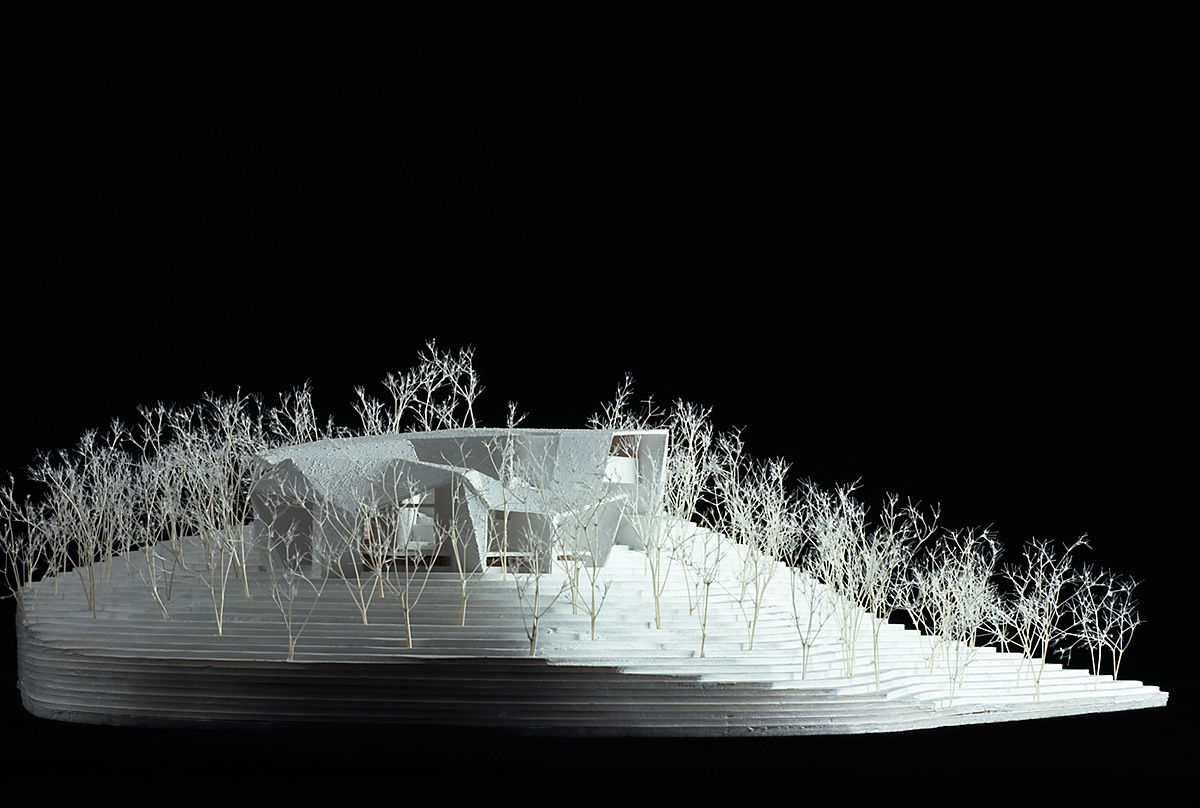 VILLA W
VILLA W is a design for a vacation house in Kyu-Karuizawa. The town of Karuizawa, historically one of the most popular summer resorts with easy access from Tokyo, is located in the mountainous areas in east Nagano Prefecture.
About 1000 meters above sea level, the site is located on the ridgetop, delineating a fan shape sloping down with a ten-meter gap from the approaching road at the top to the broad ground level along a public roadway.
The building is composed of nine fixed cores of irregular shapes, as well as the spaces between these cores. Along the sloping topography, the cores radially step down from the southwest to the northeast, creating an arc. From space to space, residents can enjoy different perspectives from various areas in the house; from the living room on the ground floor, they can enjoy a near 180-degree panoramic view of the expanse below. The arc continues in the step patio that extends from the living room.
The main floor, housing the living room and bedrooms, stands 6.27 meters below the entrance level. From there, the dining room and kitchen is 0.57 meters upwards on the west wing, while the bathroom is 0.76 meters up towards the east end after the bedrooms. The dining room leads to the utility room - 2.47 meters below the guest room on the west. The home office and library sit on the same level as the guest room - above the dining room - articulated by a slender core containing the bathroom for guests.
Through the Container Structure System, nine cores comprise the reinforced-concrete villa in its function and design. The cores demarcate the concealed secondary spaces for hidden utilities, while the areas between the cores are transparent for integrating the arc outwards and inwards. Furthermore, the roofs between these cores are designed with deep eaves to accommodate seasonal rain. The series of roofs fold upwards and downwards, gradually coiling up - and emulating the form of the terrain. The juxtaposition of the cores and the glass walls present the contrast of light and shadow within its natural surroundings.
LOCATION

Karuizawa, Nagano Prefecture,JP

PROGRAM

Villa

YEAR

2006

SIZE

419.0 sqm

LEAD ARCHITECT

Satoshi Okada

TEAM

Isao Kato

COLLABORATORS

STRUCTURAL DESIGN:

Hirokazu Toki

PHOTO CREDITS:

Kenichi Suzuki