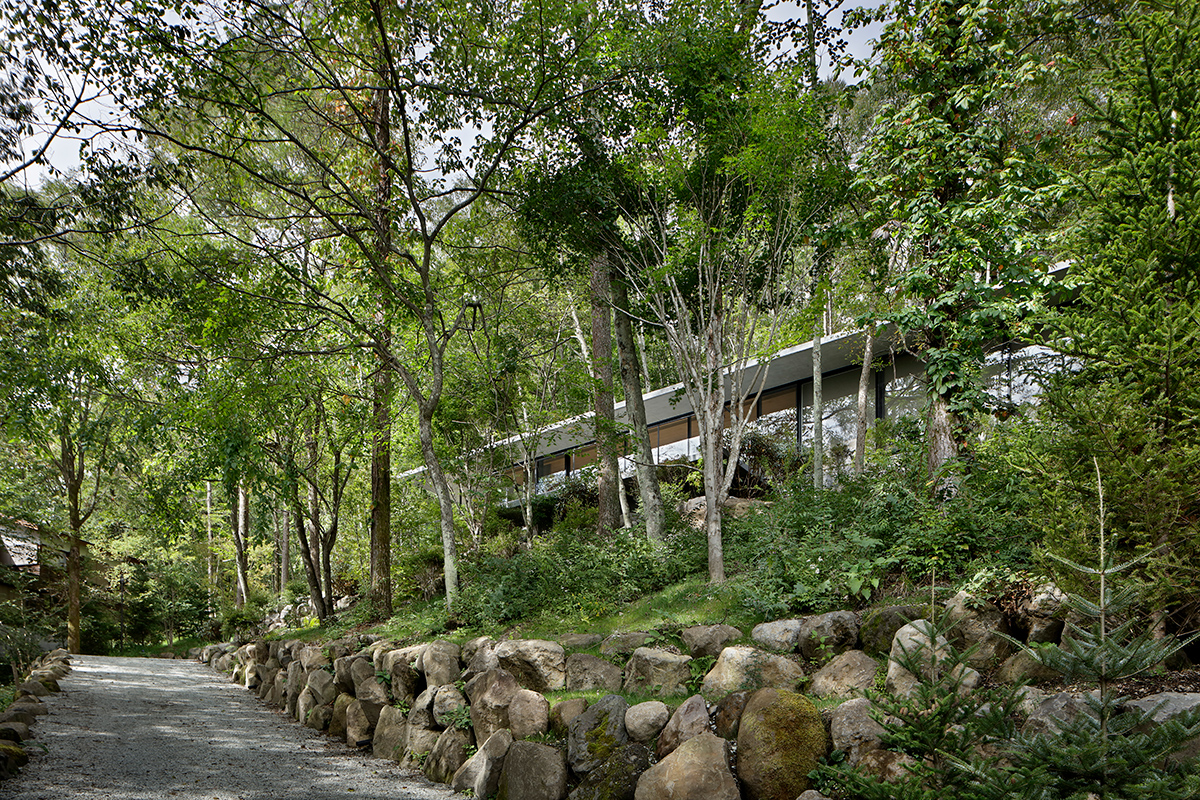 VILLA U/k
Villa U/k overlooks onto a lush green valley, at the side of the Asama mountain. It was designed as a plate that cantilevers out of the steep terrain.
Villa U/k is a vacation retreat built within the historical holiday district of Karuizawa; its position in the middle of a thicket allows users to appreciate the landscape without being seen from the nearby road. To enhance the contemplation of the surrounding nature, an elongated shape was chosen and the southern façade was designed as entirely glazed.
The floor plan responds to the same need: all the services have been pushed inwards, towards the flank of the hill, whereas living spaces were lined up along a generous terrace.
Local materials are juxaposed in carefully crafted details: volcanic stone blocks from the Asama mountain are here deployed in the retaining walls, a bright timber ceiling warms up interiors and bare concrete walls were engraved with the 50 mm grooves of a minute wooden formwork.
LOCATION

Karuizawa, Nagano, JP

PROGRAM

Villa

YEAR

2018

SIZE

1488 sqm

STRUCTURE

RC + steel

LEAD ARCHITECT

Satoshi Okada

TEAM

Tsuyoshi Oshiyama, Lucia Rocchelli, Lisa Tomiyama

COLLABORATORS

STRUCTURAL DESIGN:

Hojo Structural Laboratory

CONTRACTOR:

Sasazawa Construction Co.

PHOTO CREDITS:

Satoshi Shigeta

PUBLICATIONS

INTERNATIONAL :