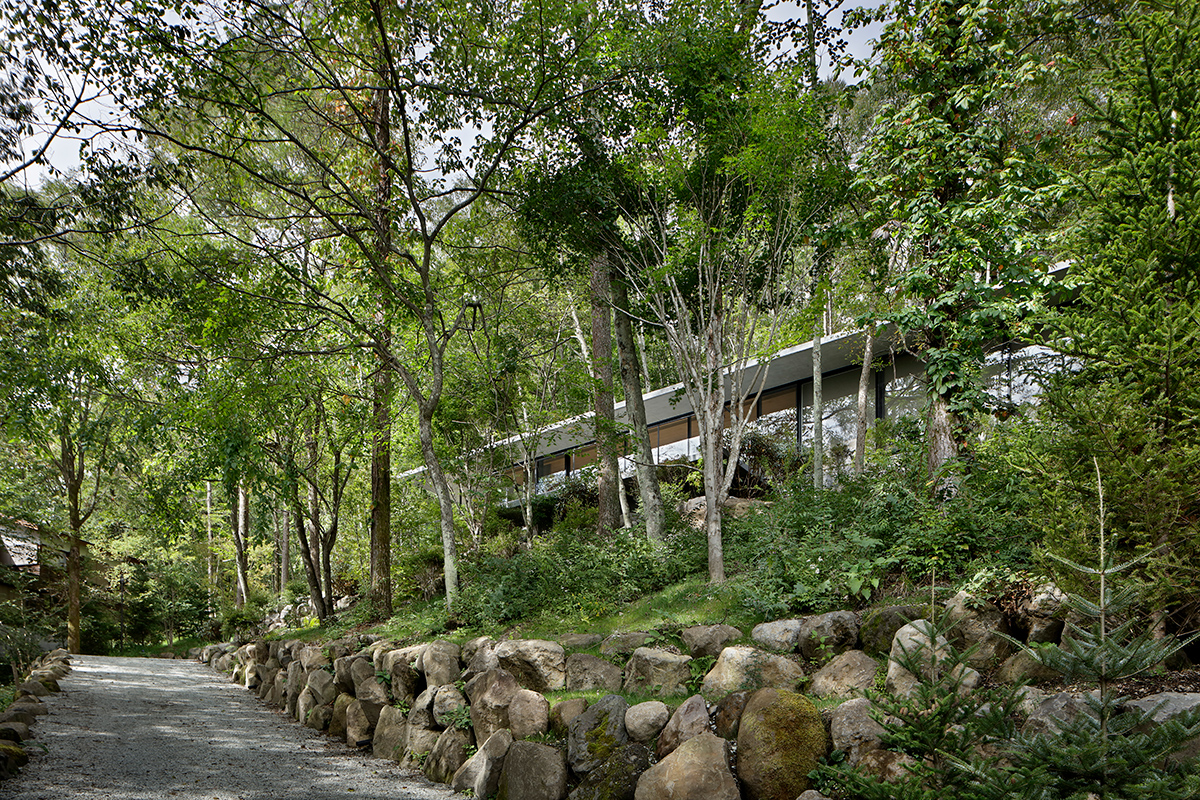 VILLA U/k
Villa U/k, built of a single storeyed reinforced concrete structure, is located on a steep inclination overlooking a lush green valley in Karuizawa.
Placed around the middle of the thicket, it commands a splendid panorama far beyond without minding eyes from the public road running below. The elongated building entirely glazed, cantilevered out of the sloping terrain to the south, was conceived to secure the view as wide as possible.
The floor plan, as well, responds to ensure the views of a beautiful nature. All building services are pushed inwards to the flank of the hill, whereas the living spaces are lined up along both a generous terrace and a landscaped garden.
The interior space is finished by bright timber ceilings, beige plastered walls kneaded with powdered gilt, grey granite floor-panels, and furnished with exquisitely crafted wooden fittings. The exposed concrete shows a delicate expression with 50mm pitched horizontal stripes by a minute timber formwork. Volcanic stones excavated during the construction are deployed for the retaining walls along the approach cleared in the mountain slope.
LOCATION

Karuizawa, Nagano, JP

PROGRAM

Villa

YEAR

2018

SIZE

1488 sqm

STRUCTURE

RC + steel

LEAD ARCHITECT

Satoshi Okada

TEAM

Tsuyoshi Oshiyama, Lucia Rocchelli, Lisa Tomiyama

COLLABORATORS

STRUCTURAL DESIGN:

Hojo Structural Laboratory

CONTRACTOR:

Sasazawa Construction Co.

PHOTO CREDITS:

Satoshi Shigeta

PUBLICATIONS

INTERNATIONAL :