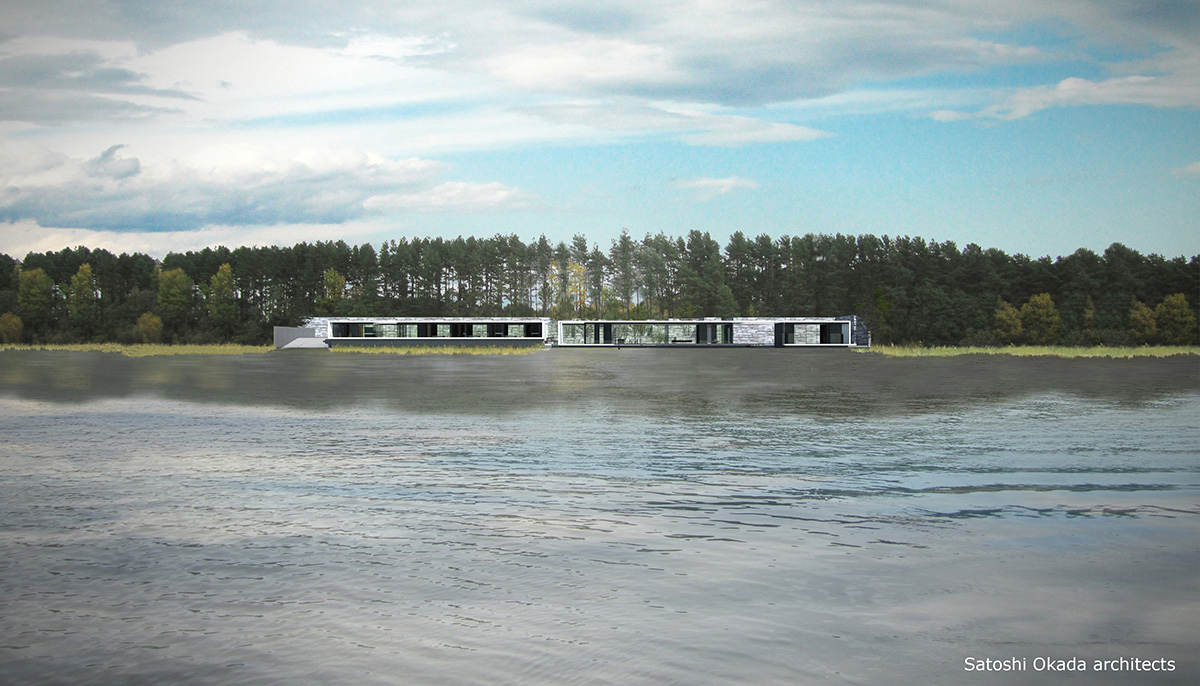 VILLA ON LAKE SELIGER
VILLA ON LAKE SELIGER is a private summer house for a celebrated family in Moscow.
The site of 50000m² is located on Lake Seliger, one of the most well-known holiday resorts in the west Russia. A long time ago, the lake belonged to a glacier on the vast basin of the Volga River, and it is entirely frozen in winter even today. There remains a beautiful nature except Nilov Monastery, the last historic artifact nearby.
The design is conceived of a flat and see-through building lying on the lake, almost invisible from the public road running 9m above the water's edge. It consists of 100m long simple steel structure articulated into two realms. Automobiles approach down along a gentle curvy ramp toward its south edge containing the garage and boathouse, adjacent to the main entrance.
Set about 50cm above the highest water level, the ground floor is dedicated to the high- ceilinged living, dining and kitchen to command the magnificent lake view and the landscaped garden behind. Whereas the platform, elevated 1.2m up above the living space, serves for bedrooms and guestrooms; the main bathroom in particular, featuring spa and sauna, is secluded to the north end across a generous courtyard in-between, directly connected to a wide deck gently stepping down into the lake.
LOCATION

East Europe

PROGRAM

Villa

YEAR

in progress

SIZE

594sqm

STRUCTURE

Steel prefabrication structure system

LEAD ARCHITECT

Satoshi Okada

TEAM

Tatsuya Terada

COLLABORATORS

PHOTO CREDITS:

Satoshi Okada architects