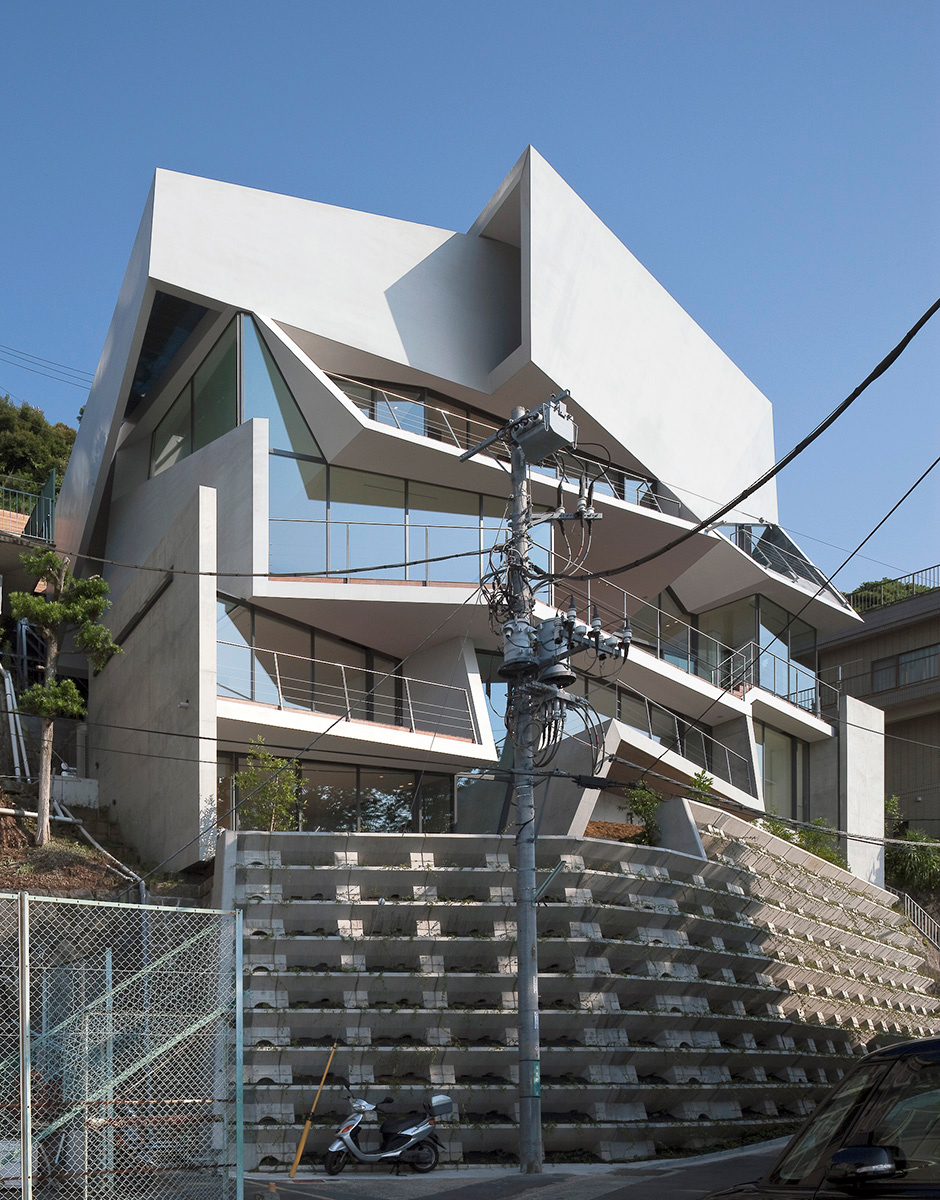 VILLA IN KAIKO
Villa in Kaikoh is designed as a holiday house in Atami, Shizuoka Prefecture, a well-known hot spring resort 100 km west of Tokyo. The site lies on a steep cliff, offering a splendid, wide view the Ocean.
The building might be viewed as if a continuous strip was to be folded in different directions so that complex interlocked voids are generated both vertically and horizontally: the villa lies on eight stepped and interconnected platforms. The continuous strip opens up in several points and creates stages for various activities. In other point it precisely delineates a single-purpose space.The main entry faces the public road at the upper end of the site; moving downwards, a Japanese bathroom features both indoor and outdoor bathtubs, extended onto a panoramic terrace overlooking the Ocean.
Structurally, the house is a hybrid composition of steel structure upon a reinforced concrete fabric. Steel was absolutely required in order to eliminate any bulky column or wall: that allows ample living spaces and confers a feeling of lightness to the whole building. Moreover, using steel eased remarkably the construction process on the steep site.
LOCATION

Shizuoka, JP

PROGRAM

Private residence

YEAR

2010

SIZE

634 sqm

STRUCTURE

RC + steel

LEAD ARCHITECT

Satoshi Okada

TEAM

Daikichi Homma, Lisa Tomiyama

COLLABORATORS

STRUCTURAL DESIGN:

Hirokazu Toki + S3 Associates Inc.

CONTRACTOR:

Mizusawa Komuten co., Takahashi Kogyo co.

PHOTO CREDITS:

Hiroshi Ueda

AWARDS

PUBLICATIONS

INTERNATIONAL:

Interior World Magazine 80, Seaside Living, Pure Luxury: World's Best Houses

JAPAN:

Selected Architectural Designs 2012, JIA Architect of the Year 2011, Toto 508, Casa Brutus:Finest Houmes of the 21st Century vol. 3, Casa Brutus 131, Detail 187, GA Houses 118, Tekko-gijutsu 10/2010, Shinkenchiku 10/2010