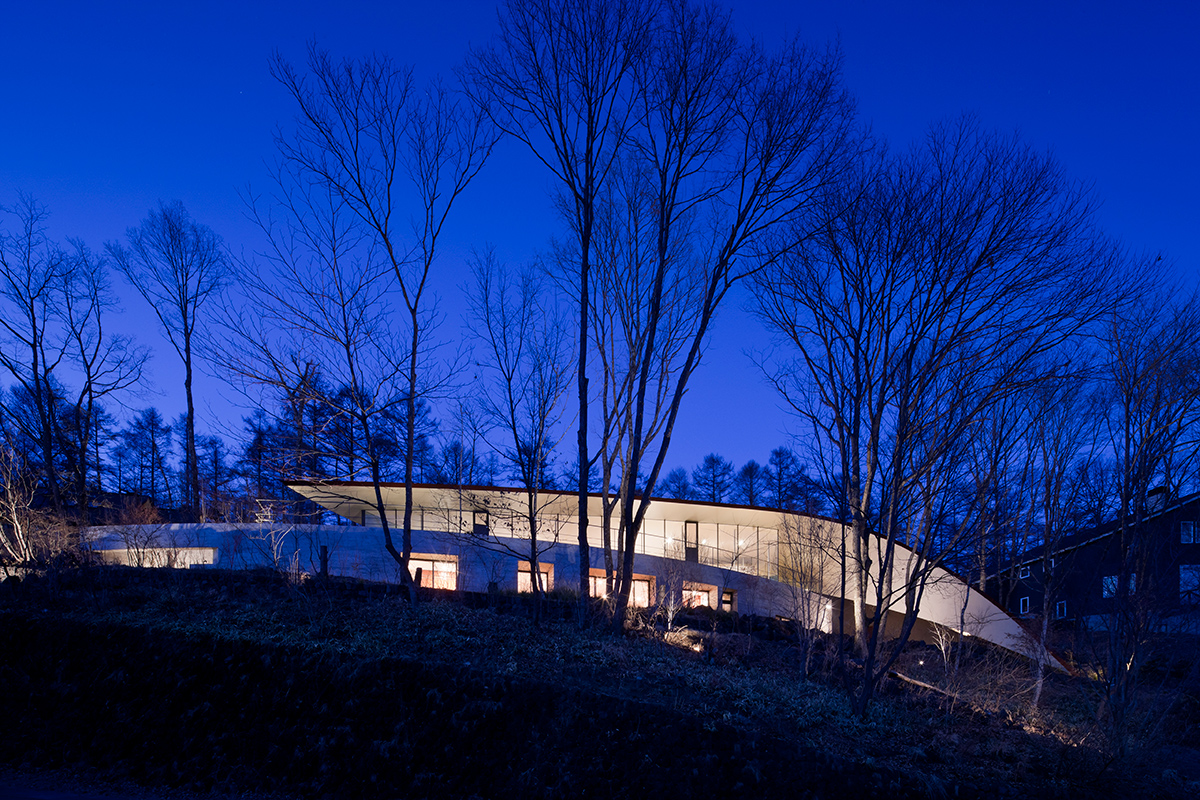 VILLA A/k
VILLA A/k is a two storeyed weekend house, located on a southside inclination along a mountain ridge, commanding a splendid view of valleys down to Karuizawa.
Automobiles approach from the northside into the garage, directly linked to the main entrance. Both are hidden beneath the ridge surface; from the dim space, a glazed short bridge leads to the entirely transparent living space exposed on the sloping terrain.
Inspired by a bird's wing extended to shelter chicks in the nest, the upper floor, built of steel structure, is covered by a single roof gently curved down to the ground. The two-dimensional curvature is resulted from the three phased modelling process as follows: first the plate is two dimensionally bent, then imposed 1/5 gradient for complying with the local regulation and cut out proportionally onto the lower structure. The thin roof, merely 15cm thick overall, is comprised of prefabricated corten steel panel units by the watertight welding, a shipbuilding technology.
The lower level is built of reinforced concrete structure, half buried underground, serves for the private areas of bedrooms, bathroom, laundry, workshop and a tatami room. The planimetric spindle shape derives from the terrain's contour lines to ensure the stability of the retaining wall against the mountain. The interior space was finished by a white painted ceiling, a dark grey plastered wall, a bright timber flooring and furnished with delicately crafted wooden fittings.
LOCATION

Karuizawa, Nagano JP

PROGRAM

Private residence

YEAR

2010

SIZE

484 sqm

STRUCTURE

RC + steel

LEAD ARCHITECT

Satoshi Okada

TEAM

Isao Kato, Lisa Tomiyama, Masataka Yonemoto

COLLABORATORS

STRUCTURAL DESIGN:

Hirokazu Toki + Hojo structural laboratory

LANDSCAPE DESIGN:

Paul Smither, OnBeat Co.

CONTRACTOR:

Sasazawa Construction Co.

PHOTO CREDITS:

Hiroshi Ueda

AWARDS

PUBLICATIONS

INTERNATIONAL:

HKIA Journal 64, Interior World Magazine 86, C3 vol 335, The Plan, Interni 62, Construir Contemporaneas, Hauser 2/2012, Interni vol. 619, Konsept Projelet vol. 80, d+a 065,Case in Giappone

JAPAN:

X - Knowledge 2/2016, Modern Living 204, Nikkei Business Publication, I'm Home nn. 52, 57 and 58, Shinkenchiku jt 2/2012, GA Houses 123