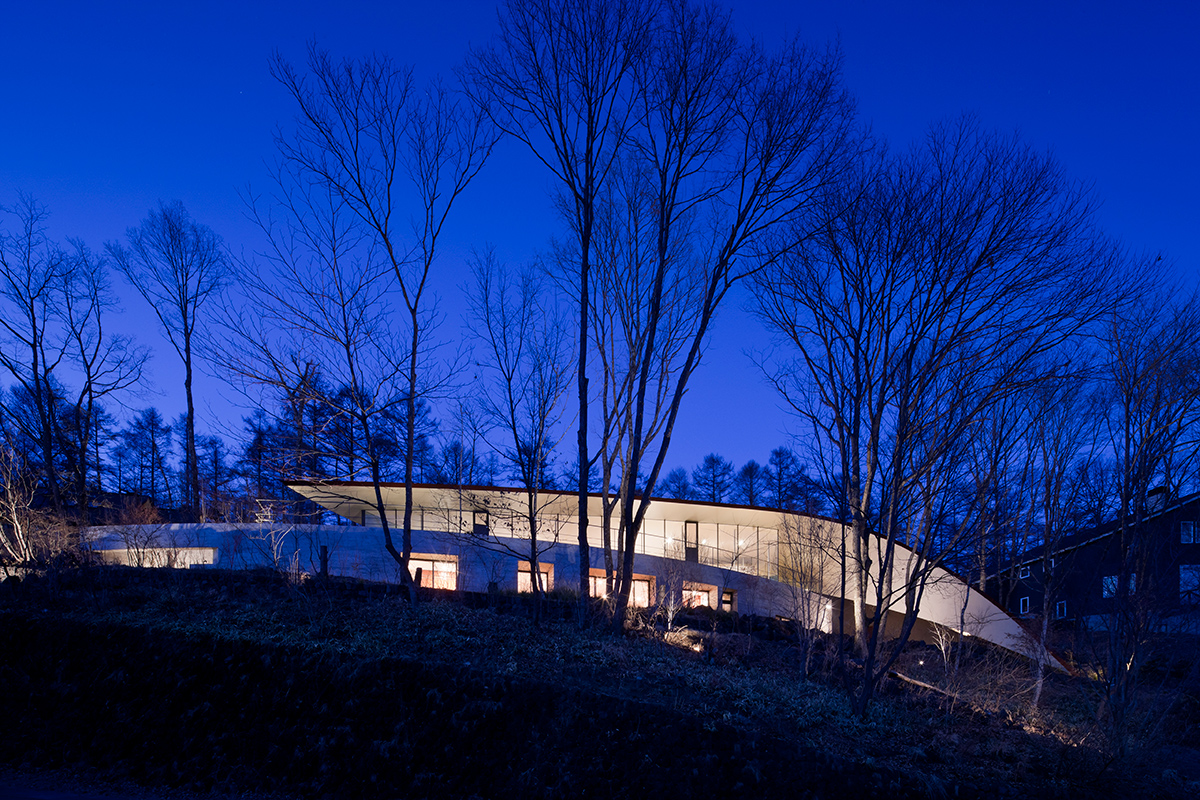 VILLA A
Villa A is designed as a holiday retreat in the town of Karuizawa, at the east end of Nagano Prefecture: this has been one of the historically most popular summer resorts within easy reach from Tokyo.
The villa lives of a certain dichotomy: a dark and intimate reinforced concrete volume, partially buried underground, hosts the private areas –tatami room, bedrooms, library, bathroom and laundry- while the bright living spaces are upstairs, open towards the valley.
The soft spindle shape derives from the contour lines of the terrain and ensures the stability of the retaining wall against the mountain.
The roof is a curvy thin plate, designed as the wing of a bird brooding its nest; its shape results from a two-phased modelling process: at first the plate has been bent along two dimensions, secondly a 1/5 inclination was imposed in order to comply with the local regulation. Its structure consists of multiple layers of corten steel sheets in complete adherence to each other, realized along a naval engineering technology; the slab is only 15 cm thick in total.
The landscape surrounding the villa has been designed in collaboration with the British horticulturist Paul Smither, as to achieve a carefully refined integration of the villa within its contest.
LOCATION

Karuizawa, Nagano JP

PROGRAM

Private residence

YEAR

2010

SIZE

484 sqm

STRUCTURE

RC + steel

LEAD ARCHITECT

Satoshi Okada

TEAM

Isao Kato, Lisa Tomiyama, Masataka Yonemoto

COLLABORATORS

STRUCTURAL DESIGN:

Hirokazu Toki + Hojo structural laboratory

LANDSCAPE DESIGN:

Paul Smither, OnBeat Co.

CONTRACTOR:

Sasazawa Construction Co.

PHOTO CREDITS:

Hiroshi Ueda

AWARDS

PUBLICATIONS

INTERNATIONAL:

HKIA Journal 64, Interior World Magazine 86, C3 vol 335, The Plan, Interni 62, Construir Contemporaneas, Hauser 2/2012, Interni vol. 619, Konsept Projelet vol. 80, d+a 065,Case in Giappone

JAPAN:

X - Knowledge 2/2016, Modern Living 204, Nikkei Business Publication, I'm Home nn. 52, 57 and 58, Shinkenchiku jt 2/2012, GA Houses 123