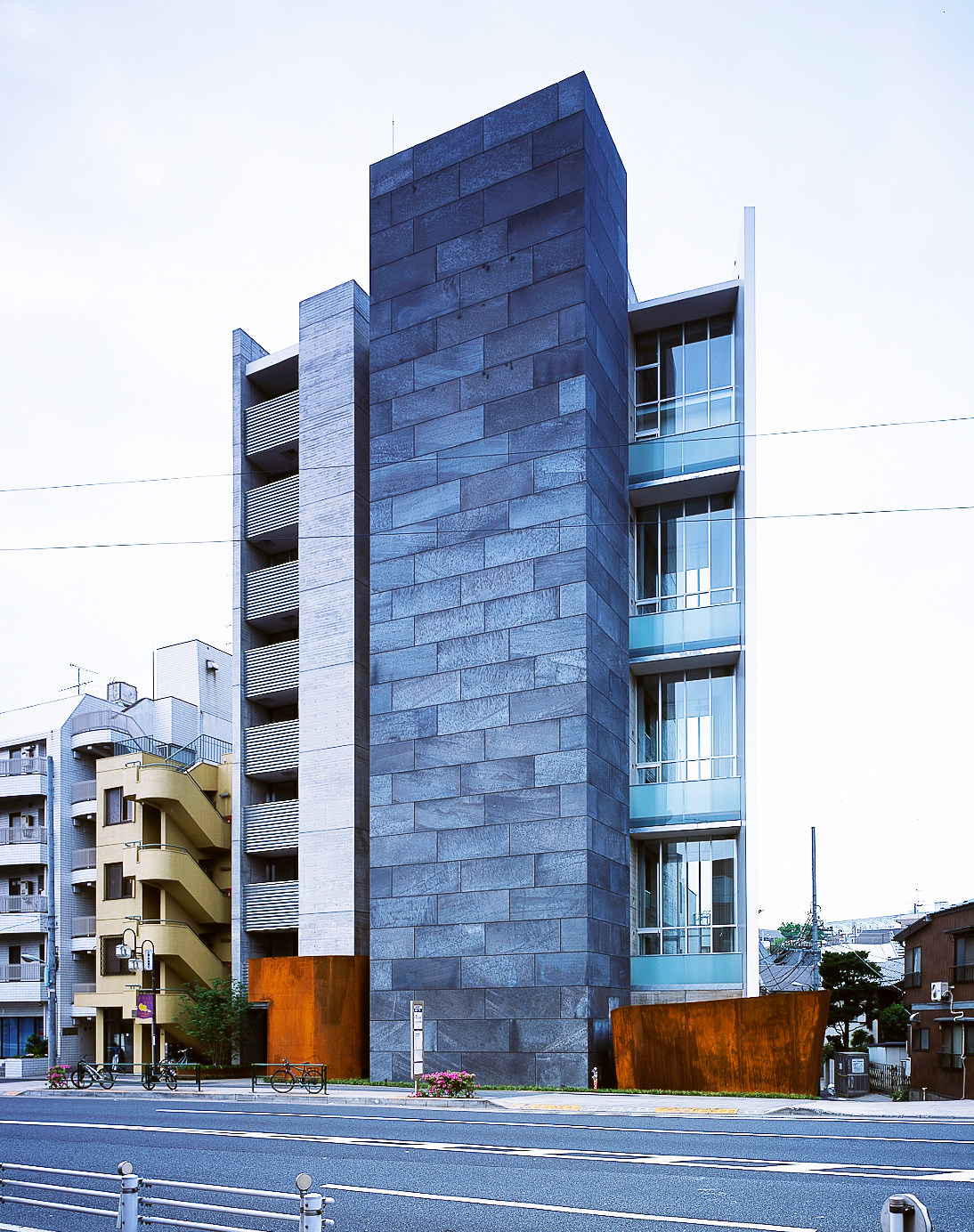 TOMIGAYA APARTMENT
TOMIGAYA APARTMENT is a high-rise apartment building located on a major thoroughfare to Harajuku city centre, about 10 minutes walk from Tokyo Olympic Gymnasium by Kenzo Tange.
Conventional buildings line along the main road; whereas an incoherent urban fabric behind is densely packed with small traditional houses on cramped alleys.
Responded to the commercial demand for maximising the spatial volume, the nine storeyed building deploys seven dwelling typologies for eighteen housing units and is articulated into three blocks for the building appeared smaller as possible. The residential units, facing to the south, are comprised of two detached volumes, with a common deck to each floor in-between; while to the north on the wide road, the charcoal-silver tower, galvanized steel plates tarnished by phosphoric acid, serves for vertical circulations of elevator and evacuation staircase as well as equipment ducts.
At the foot of the large, cold and hard-edged building, such human-scaled rusty enigmas as the main entrance, a shed for bicycle & garbage and a series of boundary fence containing cubicles for electricity in part, show their warm and curvy profiles to pedestrians. All these subtle charms were made of merely 1cm thick corten steel by technologies pertaining to the shipbuilding craftsmanship of ensuring the seamless welding for waterproof. They should be intrinsically enigmatic beyond any expression, as aliens surviving with pabulum of dissimulation.
LOCATION

Tokyo, JP

PROGRAM

Apartment building

YEAR

2005

SIZE

1488 sqm

STRUCTURE

Reinforced concrete

LEAD ARCHITECT

Satoshi Okada

TEAM

Kentaro Iyoda, Toru Kijima, Masayuki Kaneko, Lisa Tomiyama

COLLABORATORS

STRUCTURAL DESIGN:

Mitsuhiro Kanada, Masamichi Sasaki, Ove Arup & Partners

CONTRACTOR:

Satohide Co. Ltd.

PHOTO CREDITS:

Koichi Torimura

AWARDS

PUBLICATIONS

INTERNATIONAL:

Futu Magazine 6-7/2007, Casabella vol. 738, Yuksek Yogunluklu Konutlar, Arquitectura Mineral, Innovative Apartment Buildings, Viviendas Sociales (Communal living)