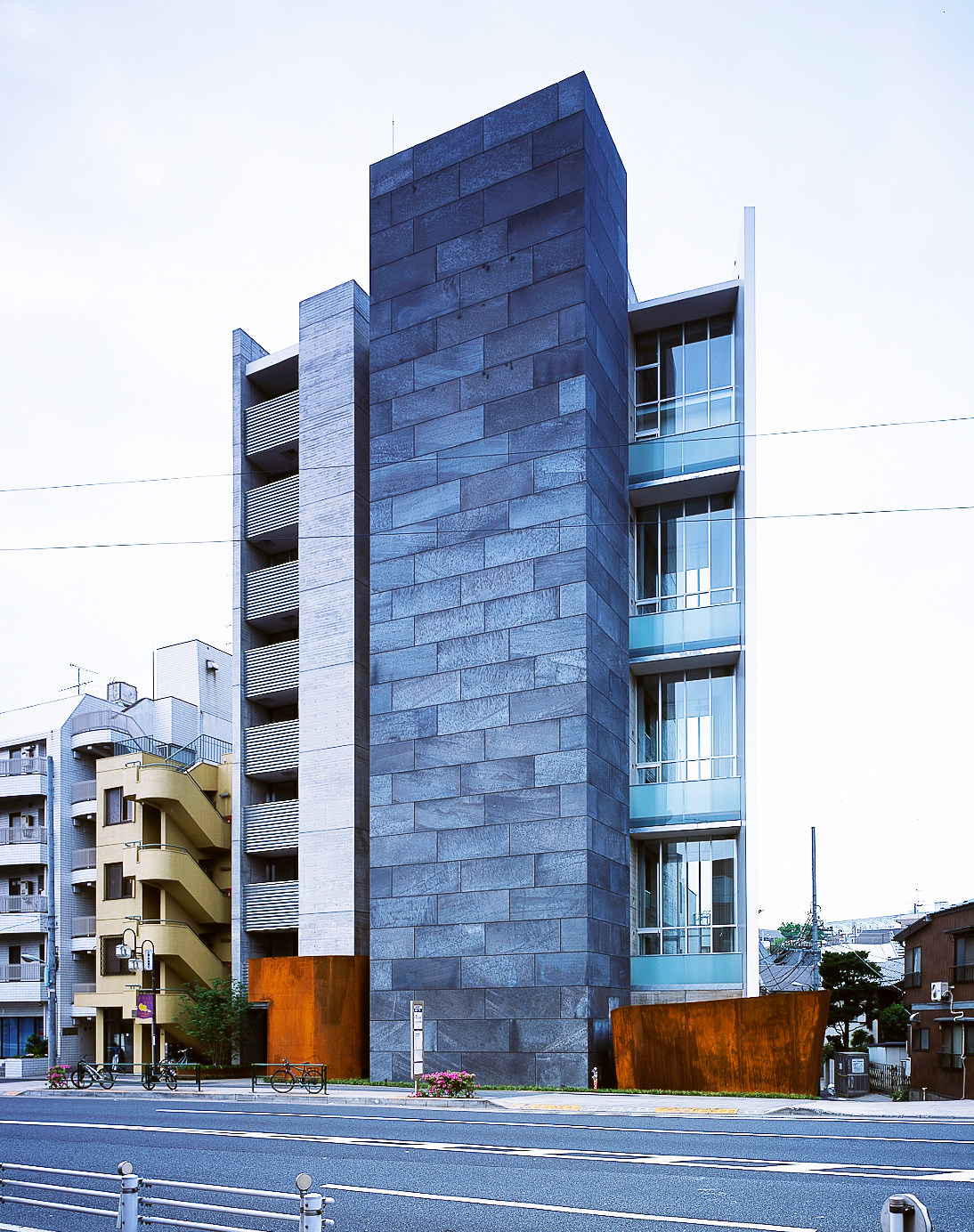 TOMIGAYA APARTMENT
The environment surrounding the building is an incoherent urban fabric that features both traditional houses facing on narrow alleys and wide, trafficked roads where sleazy commercial architecture takes place. The site lies at the intersection between these two settlements.
The building is shaped as a triple nine storeys high tower that deploys seven dwelling typologies for eighteen housing units. It is articulated into three blocks: the tower at the centre hosts the vertical circulation –i.e. elevator, emergency stairs and equipment ducts- while living units are stacked in the lateral towers. The charcoal-silver colour of the exterior cladding comes from galvanized steel plates tarnished by phosphoric acid.
Some minor elements are added around the main bodies so that the relatively tall towers would result scaled down at the street level. A rusty, curvy plate of Corten Steel -10 mm thick- serves as main entrance and shed for bicycle and garbage. These smaller bodies were realized by technologies pertaining to the naval construction which ensure seamless and waterproof welding.
At the foot of the huge, cold and hard edged apartment building, these rusty figures show their tiny, warm and curvy profiles to pedestrians. They should be intrinsically enigmatic beyond any expression, as aliens surviving with pabulum of dissimulation.
LOCATION

Tokyo, JP

PROGRAM

Apartment building

YEAR

2005

SIZE

1488 sqm

STRUCTURE

Reinforced concrete

LEAD ARCHITECT

Satoshi Okada

TEAM

Kentaro Iyoda, Toru Kijima, Masayuki Kaneko, Lisa Tomiyama

COLLABORATORS

STRUCTURAL DESIGN:

Mitsuhiro Kanada, Masamichi Sasaki, Ove Arup & Partners

CONTRACTOR:

Satohide Co. Ltd.

PHOTO CREDITS:

Koichi Torimura

AWARDS

PUBLICATIONS

INTERNATIONAL:

Futu Magazine 6-7/2007, Casabella vol. 738, Yuksek Yogunluklu Konutlar, Arquitectura Mineral, Innovative Apartment Buildings, Viviendas Sociales (Communal living)