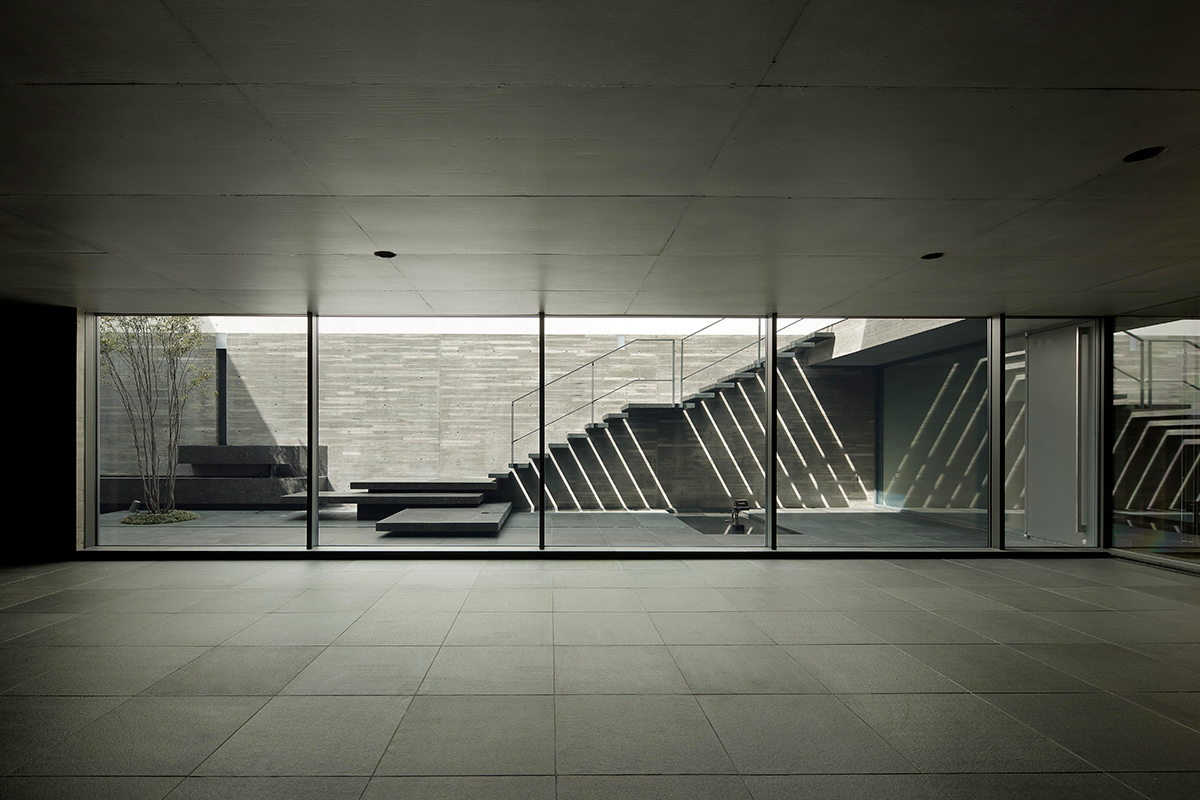 HOUSE U/s
>HOUSE U/s is a single-family residence located in the most prestigious residential district in Shibuya.
The ground level of the site was originally 3m up above the road, across which on the south a mountainous apartment building dominates the surroundings. The design was hereby conceived of a fortified enclosure built of reinforced concrete for securing the private life and four vehicles within the property.
Inside the enclosure, it is comprised of three storeys. The ground floor serves for a garage, a private entry, a gym, storages and the courtyard leading to the main entrance upstairs, while the upper two levels are dedicated to all the dwelling spaces; particularly, the living, dining, kitchen, workshop and the master bedroom face to the courtyard through the entirely glazed walls, blessed with daylight and ventilation as well as the feeling of spaciousness with a visual extension. On the wall surface, two different finishes are juxtaposed as to rescale its appearance to a human proportion; on the lower third the bared concrete delicately expressed with 50mm pitched horizontal stripes; while on the upper two thirds a smooth beige plastered finish continuous from the interior walls.
The courtyard was designed as an environment sculpture orchestrated with elegant details. Water circulates from waterfalls to a water-basin through a furrow under a large plate, one of the steps made of a polished concrete toward the regular stairs for the main entrance upstairs. The running water pleasantly sounds and comfortably moistures the air in the hard and dry urban patio.
LOCATION

Tokyo, JP

PROGRAM

Private residence

YEAR

2014

SIZE

430 sqm

STRUCTURE

RC + steel

LEAD ARCHITECT

Satoshi Okada

TEAM

Daikichi Homma, Tatsuya Terada, Lisa Tomiyama

COLLABORATORS

STRUCTURAL DESIGN:

S3 Associates Inc.

CONTRACTOR:

Satohide Co.

PHOTO CREDITS:

Satoshi Shigeta

PUBLICATIONS

X - Knowledge 2/2016, Modern Living Luxury Houses, ML Books vol. 13, Modern Living 213