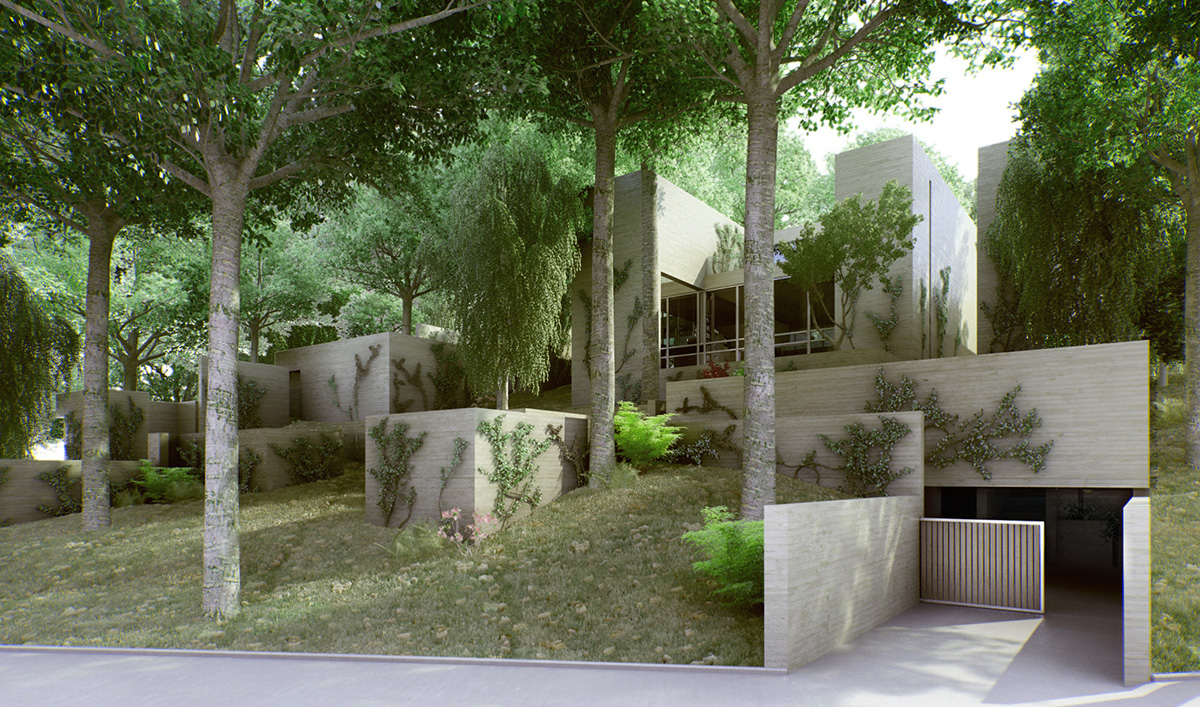 HOUSE ON NORMAFA
HOUSE ON NORMAFA was designed as a single-family residence at one of the largest parcels in the historically prominent district on the west side of Budapest.
The site inclined northward to Normafa Street lies on the thickly vegetated Buda Hills, studded with magnificent beeches over centuries.
Applied the principle of CSS (cf. GALLERY IN KIYOSATO), the three storeyed reinforced concrete building consists of four slender cores parallelly stood to each other and bears the load of the whole building. These are interlocked with transparent and generous dwelling spaces, facing onto the landscaped gardens in-between.
The main gate is at the northwest corner, through which vehicles approach into the garage directly from Normafa Street. A lift and stairs at the west-end core or a passage on the landscaped sloping terrain leads to the main entrance upstairs, linked to the grand living room. The high ceiling space is surrounded by the main dining hall, kitchen and an alcove upstairs, extended to the terrace southward for outdoor activities. The uppermost floor serves for bedrooms with spacious roof-decks to enjoy the lush trees around. Between the living quarters and the east-end core containing four guestrooms, a cozy lounge expands to a large belvedere directly into the garden.
LOCATION

Budapest, Hungary

PROGRAM

Residence

YEAR

in progress

SIZE

437sqm

STRUCTURE

Timber

LEAD ARCHITECT

Satoshi Okada

TEAM

Sándor Gergely(apostroph)

COLLABORATORS

PERSPECTIVE IMAGES:

apostroph