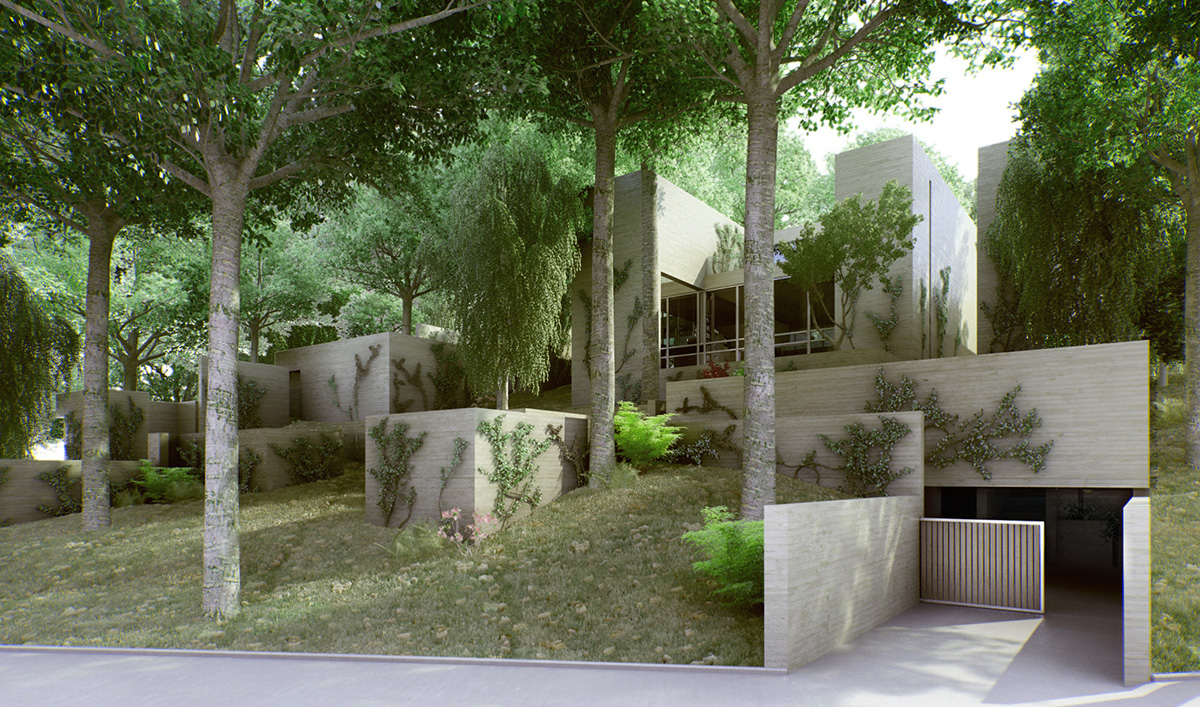 HOUSE ON NORMAFA
HOUSE ON NORMAFA is a single-family residence in a historically-prominent, western district of Budapest, Hungary.
The site, sloping northward towards Normafa Street, lies on the rich foliage of Buda Hills, including centuries-old beech trees.
The three-story, reinforced concrete building utilizes the Container Structure System in its design. Four slender containers are equidistantly arranged to bear the load of the entire building. Connecting these containers with transparent glass walls create generous living spaces that face the landscaped gardens.
The main gate is located at the northwest corner of the house, through which vehicles approach the garage directly from Normafa Street. Both the elevator and stairs at the west end, as well as the passage on the landscaped hill leads to the main entrance upstairs, leading into the main living room. The dining hall, kitchen, and upstairs alcove are enhanced by their high ceilings, all of which extend to the multifunctional south terrace. The uppermost floor houses the bedrooms connected to the spacious roof-decks with a beautiful view of the surrounding nature. Between the living quarters and the east end are four guestrooms, as well as a cozy lounge that expands to a large belvedere towards the garden.
LOCATION

Budapest, Hungary

PROGRAM

Residence

YEAR

in progress

SIZE

437sqm

STRUCTURE

Timber

LEAD ARCHITECT

Satoshi Okada

TEAM

Sandor Gergely(apostroph)

COLLABORATORS

PERSPECTIVE IMAGES:

apostroph