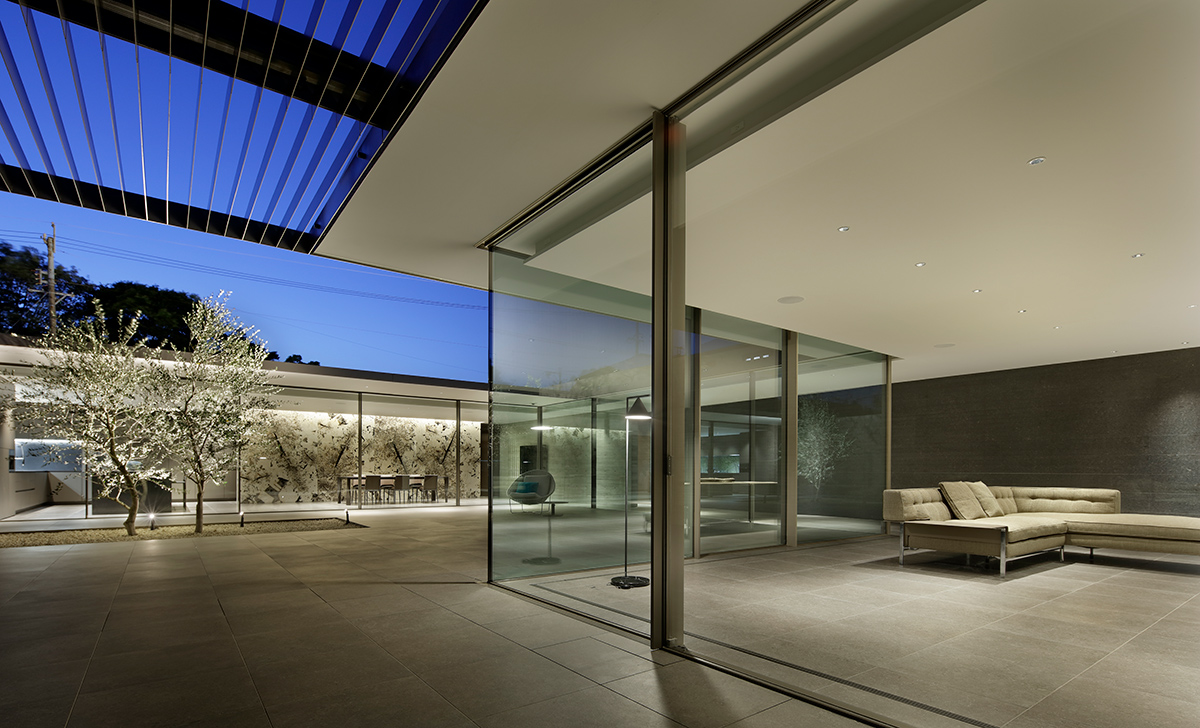 HOUSE K/n
This house stands in a historic residential district of Nagoya City. The site is located on top of a small hill, rectangular in shape with a frontage of 19.86 meters and a depth of 45.75 meters, slopes gently downward with a difference in elevation of about 4 meters from the front road. ...
Despite the site's strict regulation of a 40% building-to-land ratio, the house employs a one-story design, its lower floor plan taking advantage of the sloping terrain.
The austere walls enclosing the reinforced concrete building juxtapose its interior. Large, transparent courtyards are demarcated by glass, arranged to seek a balance between solid and void. The frontispiece of House K / n displays the entryway to the building's main entrance and garage. The design emphasizes the four elements of stone, iron, greenery, and water to create an immersive experience with minimal intrusion. This entryway extending to the rear of the building is designed with a small creek, which is divided into two major parts: one in front of the main entrance and the other behind it. As one approaches further into the building, water flows through smooth, geometric channels progressing into irregular stone surfaces, displaying the progression of a natural landscape within the space.
The entrance porch is covered with a thin, delicate roof. Upon entering the door, t one passes a water vessel to the right collecting the water downstream. The dimmer space with its low ceiling leads to the reception area, gallery, and the backyard tube directly linked to the kitchen. The gallery, salon - a place for relaxation - dining, and kitchen face a large, central courtyard. In contrast to the compressed spatiality of the entrance, the continuous space around the courtyard is brighter with high ceilings and transparent spatial quality.
In particular, the focal wall in the dining room is finished with African marble, creating a space to appreciate organic design that spans "several hundred million years." The sliding glass walls of the dining room facing the courtyard allow the interior space to extend continuously into the courtyard.
The salon, on the other hand, is enclosed by glass walls that protrude into the courtyard, facing the dining hall through the patio. The exterior focal point of the tall maple tree planted in the garden below displays a curated view of the changing colors of each season.
The study and the master bedroom are located at the back of the salon. On the lower floor, two private rooms and a Japanese-style tatami room are designed with an emphasis on privacy. All of the spaces, which are structured around natural light and ventilation, face the large and small enclosed gardens.
LOCATION

Nagoya, JP

PROGRAM

Private residence

YEAR

2021

SIZE

609.18 sqm

STRUCTURE

Reinforced concrete, steel

LEAD ARCHITECT

Satoshi Okada

TEAM

Tatsuya Terada, Lisa Tomiyama

COLLABORATORS

STRUCTURAL DESIGN:

Hojo Structural Laboratory

MECHANICAL DESIGN:

Akeno Facility Resilience

LIGHTING DESIGN:

KOIZUMI Lighting Technology Corp.

CONTRACTOR:

SOUMIYA Construction Co.

PHOTO CREDITS:

Satoshi Shigeta

PUBLICATIONS