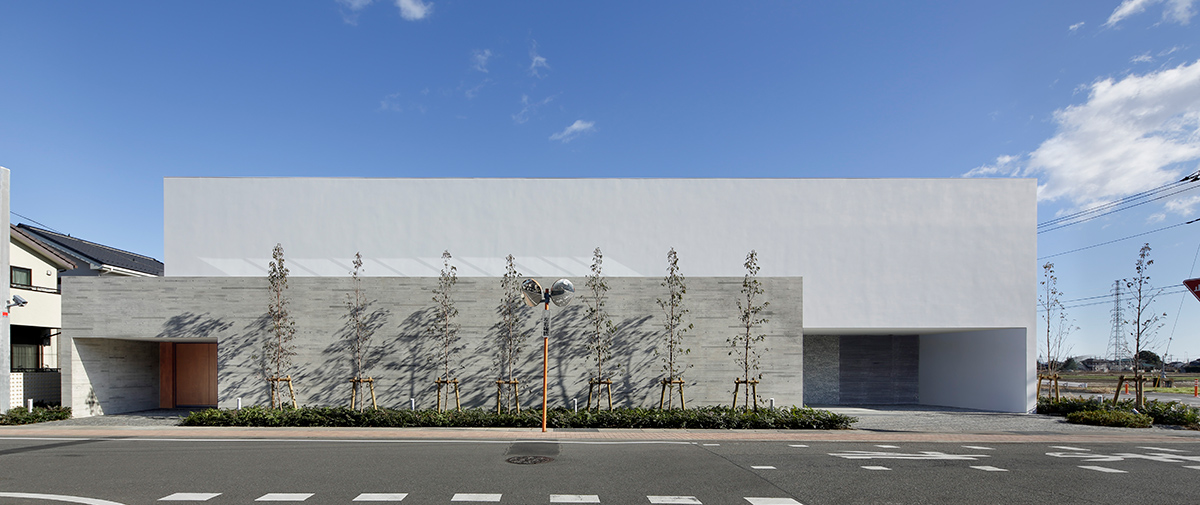 HOUSE K
This single family house is located in Gunma, approximately a hundred-thirty kilometers northwest of Tokyo. It is conceived as a solid volume, introverted because of the heavy traffic along the site boundaries.
This fortified residence has a hollow core: a main courtyard and multiple secluded gardens bring natural light into the rooms and allow intertwined sights across the different spaces of the house. The ground floor hosts the guest room and services, a gym and the client's collection of vehicles on the other side of the court; on the upper floor are located the living quarters, featuring an open kitchen and dining configuration, extended by a broad terrace oriented southwards. Master bedroom, boudoir and library are in the opposite wing, complemented by utility spaces and by the main bathroom, exceptionally bright due to the full size skylight. Core walls are cladded with a dark local stone whereas lighter finishes enhance the airy quality of the living spaces on the second floor.
The house is further enriched by precious handcrafted details such as the custom-made butch hammered door of the main entrance, realized along the traditional techniques of Japanese carpentry.
LOCATION

Gunma, JP

PROGRAM

Private residence

YEAR

2015

SIZE

675 sqm

STRUCTURE

RC + steel

LEAD ARCHITECT

Satoshi Okada

TEAM

Lisa Tomiyama, Daikichi Homma

COLLABORATORS

STRUCTURAL DESIGN:

Masaki structural laboratory

CONTRACTOR:

Sasazawa Construction Co.

PHOTO CREDITS:

Satoshi Shigeta

PUBLICATIONS