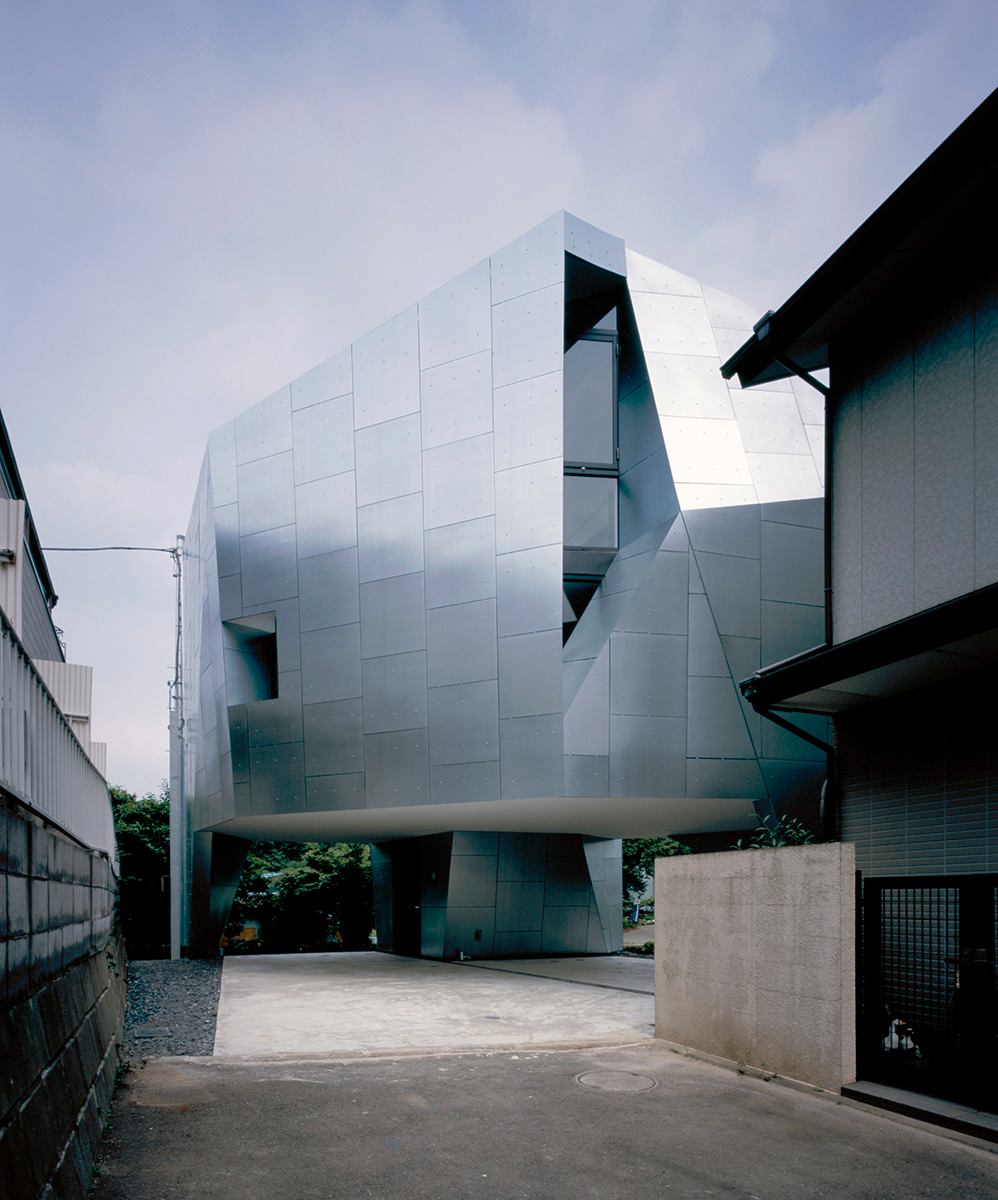 HOUSE IN WAKABADAI
HOUSE IN WAKABADAI is a three-story residence located on the outskirts of Tokyo, with a floor space of only 65 square meters.
The site is at the end of a hidden alley less than 4 meters wide, commanding a beautiful view of the orchards extending southward beyond the brook below. Multiple difficulties presented themselves through the design and construction process: the unstable ground of the riverside, inconveniently-narrow access to the site, and insufficient construction budget.
The architectural design for this house began through considering the movement and parking of two cars within the limited space. This spatial challenge occupies most of the site area - 116 square meters - inevitably pushing the building's structural elements towards the site's border. Inspired by a jumbo-jet aircraft supported by only three legs, the tiny house evolved to be supported by large piloti.
To accommodate the unstable ground and poor accessibility, the design was constructed with lightweight timber construction and prefabricated components. Small panel pieces composed of two-by-fours were interlocked with each other through the Log-Hinge System (LHS), an innovative construction method that allows for adjacent surfaces to attach along a log bracket at any angle. The technique was invented in this project to accommodate the irregular polygonal design at a low cost. The building design, tilted inward or trimmed where necessary, adjusts to its surroundings while complying with local regulations.
LOCATION

Kawasaki-shi, Kanagawa, JP

PROGRAM

Private guesthouse

YEAR

2006

SIZE

120 sqm

STRUCTURE

Timber

LEAD ARCHITECT

Satoshi Okada

TEAM

Isao Kato, Shunichi Kasajima, Lisa Tomiyama

COLLABORATORS

STRUCTURAL DESIGN:

Hirokazu Toki

CONTRACTOR:

Tsukasa Kenchiku Co.

PHOTO CREDITS:

Satoshi Okada architects, Koichi Torimura (Nacasa & Partners)

AWARDS

PUBLICATIONS

INTERNATIONAL:

Casas Compactas/Compact Houses 2012, Konsept Projeler 2012, rem 42, Grand Designs 043, 10x10/3 - 100 Architects 10 Critics 2008, Casabella vol. 756

JAPAN:

Journal Of Architecture And Building Science vol.123, JIA Architect of the Year 2010, Selected Architectural Designs 2009, GA Houses 94, Jutaku Tokushu no.245