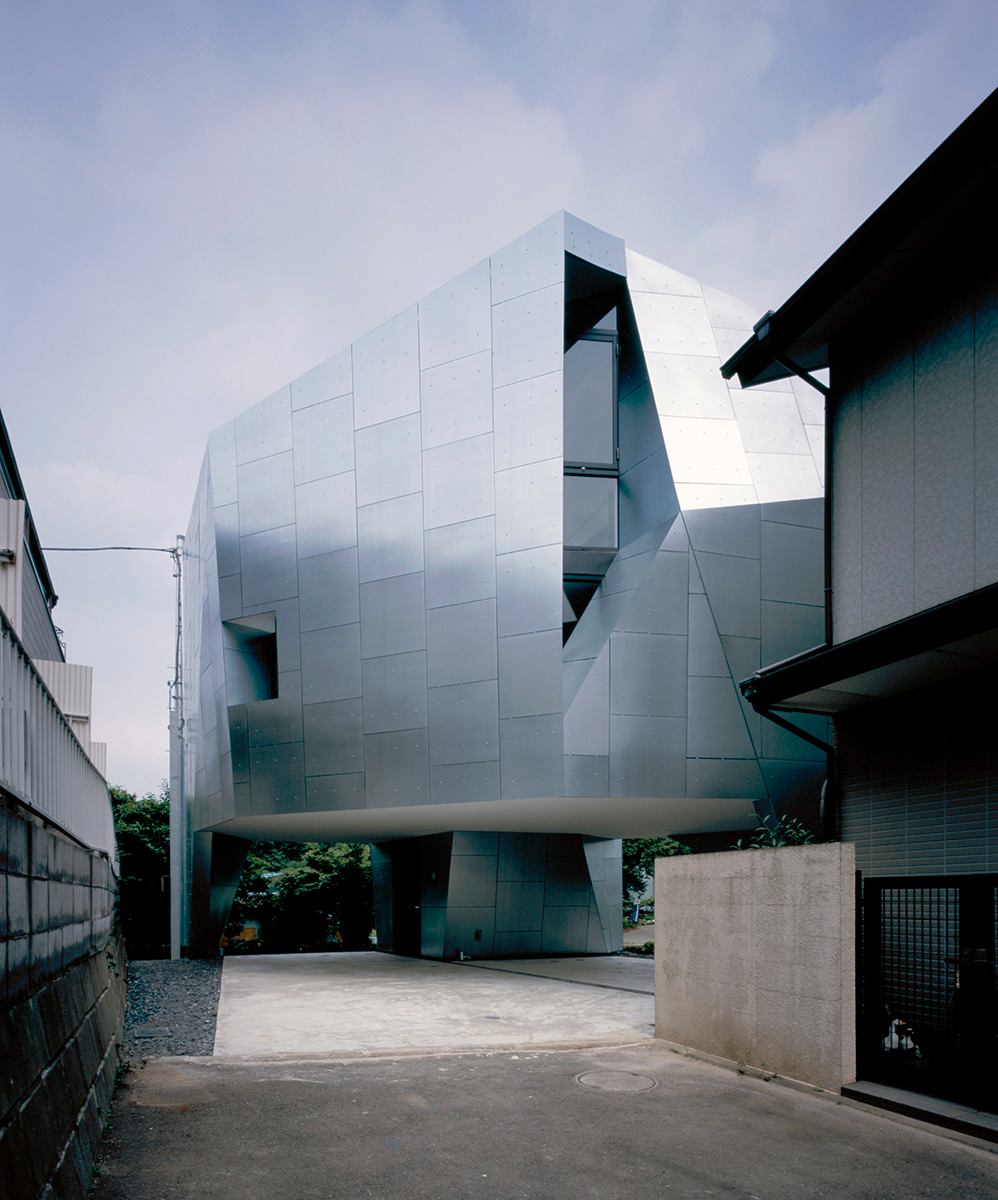 HOUSE IN WAKABADAI
House in Wakabadai is a small residential project designed for a young couple: the clients simply requested a house that would be attractive and that would look cool. Certain elements are just so attractive that verbal expression is suspended and left powerless: whenever people encounter them, the body instinctively responds before any word can be formulated; in his architectural research, Satoshi Okada named the nature of this mysterious longing intensity of architecture. This house is one attempt in such practice.
The outer shape of the building was tilted and trimmed to match with the scale of its surroundings, the ground floor was opened into a pilotis layout to enhance visual clearance and natural ventilation.
The structure is an application of CSS, Container Structure System*. It consists of three structural elements that lift up the double-layered living section. The largest bearing element in the Container Structure is the core that accommodates staircase, storage, washing place for the dog and lavatory. The other two cores host utilities and plumming.
Exterior walls were cladded with rustproof steel sheets 1 mm thick, spaced at 5mm to create a gap of insulating air, aiming to a better environmental control throughout the whole year.
*Container Structure System: a patent pending new method developed by architect professor Satoshi Okada and structural engineer Hirokazu Toki.
LOCATION

Kawasaki-shi, Kanagawa, JP

PROGRAM

Private guesthouse

YEAR

2006

SIZE

120 sqm

STRUCTURE

Timber

LEAD ARCHITECT

Satoshi Okada

TEAM

Isao Kato, Shunichi Kasajima, Lisa Tomiyama

COLLABORATORS

STRUCTURAL DESIGN:

Hirokazu Toki

CONTRACTOR:

Tsukasa Kenchiku Co.

PHOTO CREDITS:

Satoshi Okada architects, Koichi Torimura (Nacasa & Partners)

AWARDS

PUBLICATIONS

INTERNATIONAL:

Casas Compactas/Compact Houses 2012, Konsept Projeler 2012, rem 42, Grand Designs 043, 10x10/3 - 100 Architects 10 Critics 2008, Casabella vol. 756

JAPAN:

Journal Of Architecture And Building Science vol.123, JIA Architect of the Year 2010, Selected Architectural Designs 2009, GA Houses 94, Jutaku Tokushu no.245