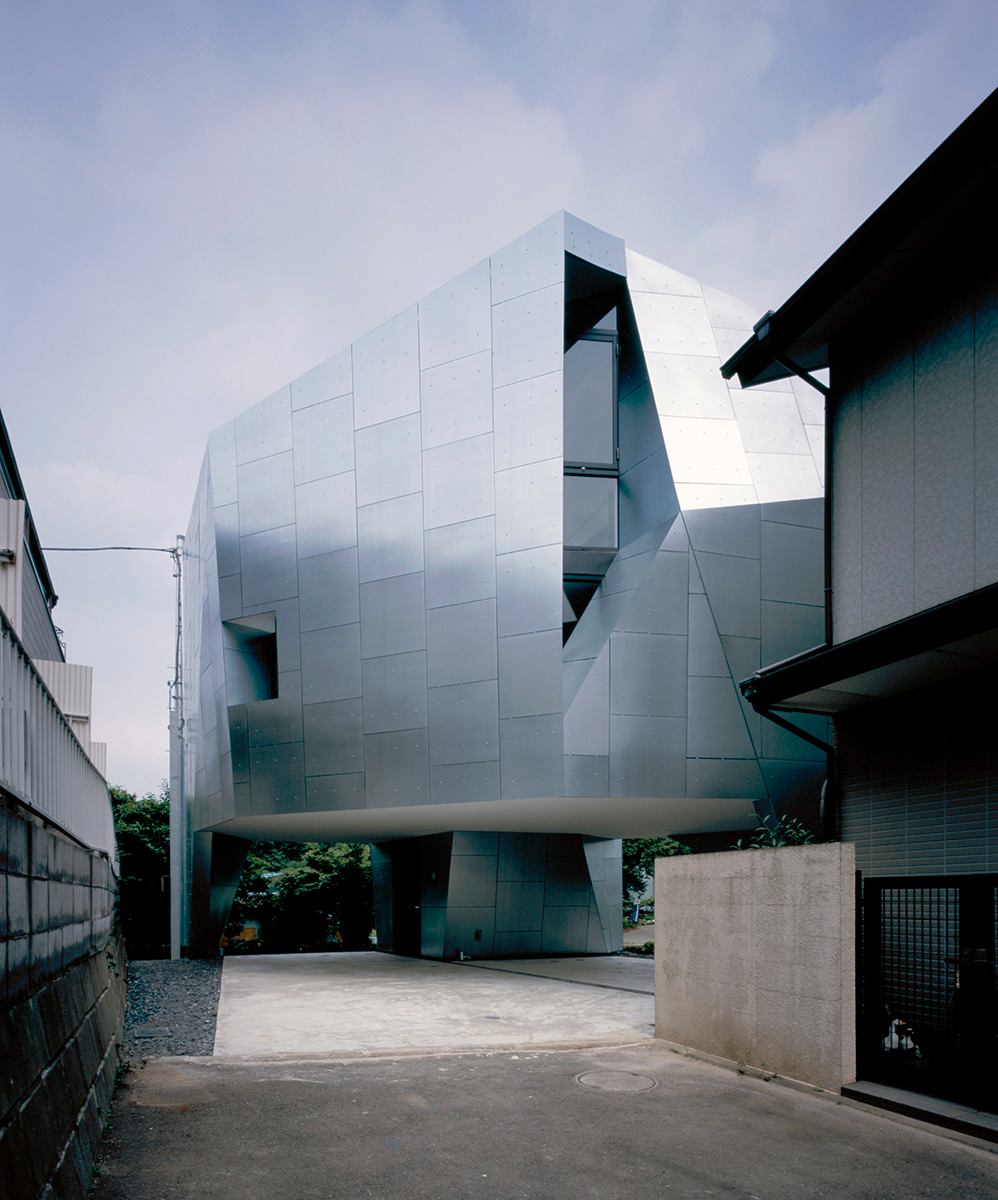 HOUSE IN WAKABADAI
HOUSE IN WAKABADAI, located on the outskirts of Tokyo, is a three storeyed residence with the footprint of merely 65m².
The site is at the end of a blind alley less than 4m wide, commands a beautiful view of orchard spread southward beyond a brook below. Difficulties were the riverside weak ground, the inconveniently narrow access to the site and an insufficient construction budget.
Automobiles are crucial for the suburban life; hereby, architectural design started from considering how to drive two cars in/out and park within the limited area. This issue occupies most of the site area of 116m² so that the building structural elements were inevitably pushed out close to the site boarder. Inspired by a jumbo-jet aerocraft enough heavy yet supported by only three legs, the big pilotis in the tiny house thus came about.
A lightweight timber construction is best fitted to the weak ground, and a prefabrication method of construction was applied due to the poor accessibility. Small panel pieces comprised of two-by-four timbers in a factory were conveyed from trucks to cranes for connecting each other by LHS (Log-Hinge-System) - an innovative construction method, featuring adjacent two planes are connected along a log at any angle, was invented in this project to create any irregular polygonal shape less expensively. The building form, tilted inward or trimmed where necessary, was conceived to adjust requirements from the surroundings as well as comply with the local set-back regulation.
LOCATION

Kawasaki-shi, Kanagawa, JP

PROGRAM

Private guesthouse

YEAR

2006

SIZE

120 sqm

STRUCTURE

Timber

LEAD ARCHITECT

Satoshi Okada

TEAM

Isao Kato, Shunichi Kasajima, Lisa Tomiyama

COLLABORATORS

STRUCTURAL DESIGN:

Hirokazu Toki

CONTRACTOR:

Tsukasa Kenchiku Co.

PHOTO CREDITS:

Satoshi Okada architects, Koichi Torimura (Nacasa & Partners)

AWARDS

PUBLICATIONS

INTERNATIONAL:

Casas Compactas/Compact Houses 2012, Konsept Projeler 2012, rem 42, Grand Designs 043, 10x10/3 - 100 Architects 10 Critics 2008, Casabella vol. 756

JAPAN:

Journal Of Architecture And Building Science vol.123, JIA Architect of the Year 2010, Selected Architectural Designs 2009, GA Houses 94, Jutaku Tokushu no.245