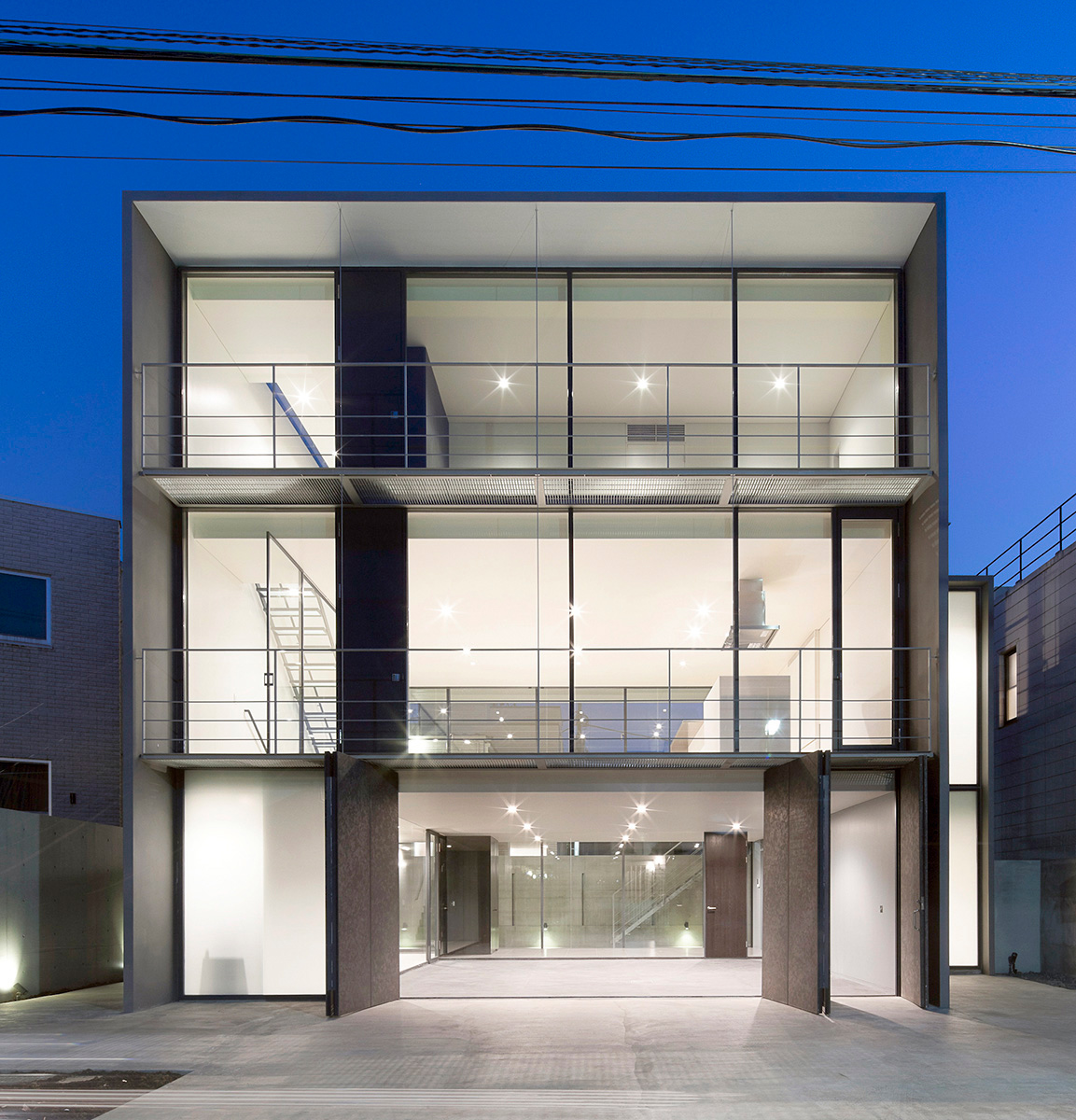 HOUSE IN SEIJOH
Towards Super-Sophistication In Architecture
HOUSE IN SEIJOHU is a three storeyed residence located in one of the most prestigious residential districts of Tokyo.
The design was conceived of responding to the client request for creating floor areas available to the maximum under such restrictions as the footprint less than 40% of the site area, the building height less than 10m and the sun-shadow regulation to restrain the height as well.
Within the volume limited by those conditions, the space for dwelling could be maximised by minimizing the structure itself; as is obvious, a steel construction was adapted. A pair of steel portal frames, inspired by torii - the sacred gate typical in Japanese shrines, bears the load of the whole volume making any column structurally redundant. The ground floor is dedicated to a garage and a workshop behind; the upper two floors serve for living spaces entirely glazed on both north and southside, extended to each balcony or terrace, further up to a larger roof-deck.
Supported by a shipbuilding technology, steel panel blocks were prefabricated to size into conveyable units in a factory; thereafter at the construction site, they were tightly welded each other for acquiring a water-proof membrane, and coated with polyurethane foam sprayed to ensure a thermal insulation for both roof and wall. The thickness of walls resulted in the minimum possible to bring extra 6m² to the total floor area, compared with the case of reinforced concrete structure.
LOCATION

Tokyo, JP

PROGRAM

Private residence

YEAR

2012

SIZE

222 sqm

STRUCTURE

steel

LEAD ARCHITECT

Satoshi Okada

TEAM

Kentaro Izumi, Lisa Tomiyama

COLLABORATORS

STRUCTURAL DESIGN:

B-Farm

CONTRACTOR:

Eiger Sangyo co., Takahashi Kogyo co..

PHOTO CREDITS:

Hiroshi Ueda

PUBLICATIONS

INTERNATIONAL:

JAPAN:

JIA Architect of the Year 2014, Nikkei Architecture 9 - 10
Nikkei Architecture 9 - 10, Detail 193, Shinkenchiku jt 4/2012