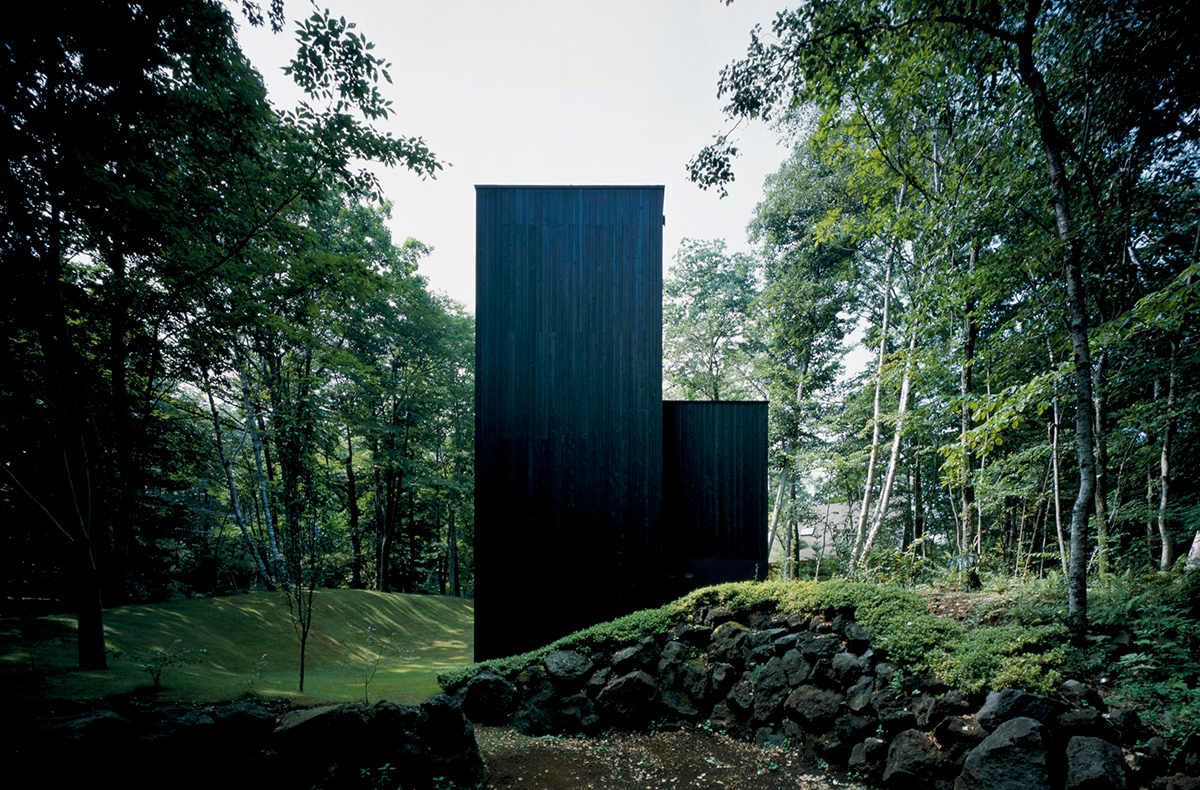 HOUSE IN MT FUJI
At the first glimpse, the house looks like a dark shadow in the forest. A diagonal wall divides the building into two realms. The wall dictates the ridge of a roof sloping in accordance with the pitch of the terrain: the building scale is therefore moulded onto the landscape.
The dimness of the entrance guides one's glance upwards at the skylight and downwards at the bright living room, far beyond; the path leading to the latter features a subtle inclination along the diagonal wall.
The smaller volume on the northeast contains a hall connecting living to the bedrooms, stacked one on top of each other, and to the bathroom. If the living quarter is meant to be used from dawn till noon, this dim hall caters for the second half of the day: the afternoon rays pierce through a small square window beneath the ceiling and washes the opposite white wall with orange sunlight.
TThe outer wall is cladded with Japanese cedar stained black, the color of lava, for the volcanic memory of the site. The building stands in the landscape like a ground upheaval of the site, where the black lava has slept since the ancient times.
LOCATION

Karuizawa, Yamanashi, JP

PROGRAM

Private residence

YEAR

2000

SIZE

139 sqm

STRUCTURE

Timber

LEAD ARCHITECT

Satoshi Okada

TEAM

Eisuke Aida, Lisa Tomiyama

COLLABORATORS

STRUCTURAL DESIGN:

Kenta Masaki

CONTRACTOR:

Ide Kogyo Co. Ltd.

PHOTO CREDITS:

Satoshi Okada architects, Katsuhisa Kida

AWARDS

PUBLICATIONS

INTERNATIONAL:

Bravacasa 02/2012, Konsept Projeler 2012, 200 Houses 2011, Architectural Creations 01/2009, 200 Outstanding House Ideas 2009, Hise vol. 47, FUTU Magazine 06-07/07, Grand Designs no. 032, DOMES vol. 46, New Country House 2005, The Contemporary Guesthouse 2005, Living Plans 2005, Today's Country Houses 2005, Dwell Magazine 07 - 08/2004, Atlas of Contemporary World Architecture 2004, Case di Vacanza 2004, Within Small Homes 2003, Mini House 2003, Interior World Magazine vol. 26, Dream Houses 2002, 20 Architetti per Venti Case 2002, 45 Under 45: Young Architecture 2002, 100 of the Wolrd Best Houses 2002, Ville Giardini vol. 377, Country Modern 2001, The House Book 2001, Four Rooms 02/2001, Monitor Magazine 01/2001, Abstract vol. 6/7, Architectura Viva 07-08/2001, Casabella vol. 688, Baumeister 12/2000, md international magazine of design 12/2000, The Architectural Review 07/2000;

JAPAN:

Shinkenchiku 75, Contemporary Architecture in Japan vol.4 2011, GA Houses 59 Project 1999, Stringent Selection : Architects Directory 2003;