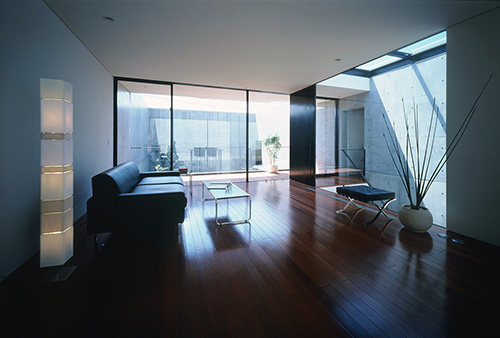 HOUSE IN MATSUBARA
This design translates the traditional character of machiya, Japanese townhouse, into a contemporary language.
The building is a solid core placed in the middle portion of a long and narrow site, enclosed by high concrete walls: two secluded gardens are then automatically shaped at the front and at the rear of the house; these foster a natural breeze across the house ensuring cool indoors throughout the whole summer. Similarly conceived, the bare concrete walls act as thermal masses during winter, when they are washed by the sunlight filtering through the skylights.
The front garden refers to the roji, Japanese tea garden, while the rear one has a more private character and pertains to the bedroom.
The structure combines concrete bearing walls with prefabricated steel panels as floor slab: these remarkably reduced the construction time (Light-steel Panel Unit System).
LOCATION

Setagaya, Tokyo,JP

PROGRAM

Residence

YEAR

2001

SIZE

151.04 sqm

STRUCTURE

Reinforced concrete + light-steel panel unit system

LEAD ARCHITECT

Satoshi Okada

TEAM

Eisuke Aida, Lisa Tomiyama

COLLABORATORS

STRUCTURAL DESIGN:

Kenta Masaki

CONTRACTOR:

Kadowaki kensetsu co.

PHOTO CREDITS:

Hiroyuki Hirai