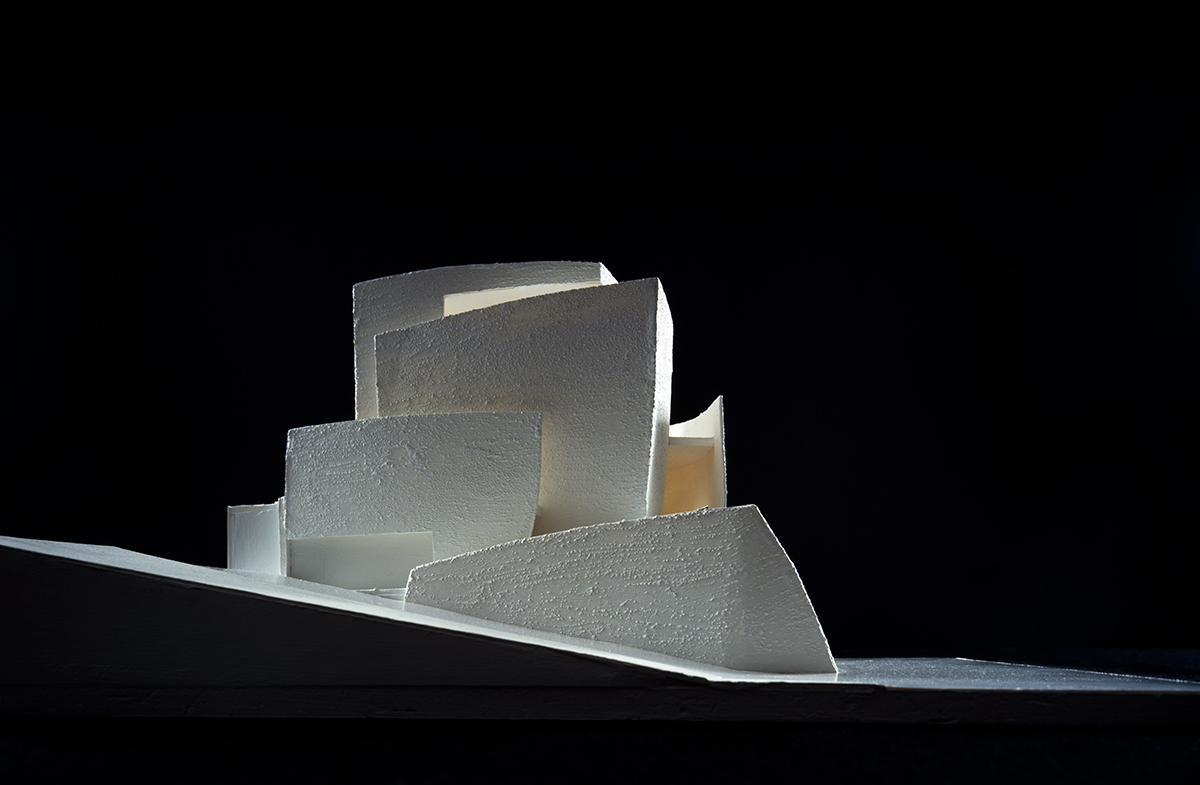 HOUSE IN KUMOI
House in Kumoi is designed in Nishinomiya City, Hyogo Prefecture. As a bedroom town for Kobe and Osaka, the residential areas have been developed by demolishing the gently sloping hills of Mt. Rokko into small tiers for housing properties since a century before. The trapezoidal site is located at the tip of a tier facing to the east by 6 meter up above the front street on the north. The exterior walls are designed with setting back from one to another. The view from the street corner should not be oppressive to human eyes. The walls, moderately curved, are finished by urethane resin painting on the mortar plastered based on a crack free primer. Interior walls are finished by a plaster work with diatomaceous earth.
The house is composed of 4 stories. Main entrance, storage, and garage are planned at the bottom on the basement floor connecting to the sloping alley on the east. On the ground floor, the entrance hall is a double height narrow and tall space, to which bedroom with a large terrace and music room with a skylight face from both sides. There is Mother's room on the first floor; the small living to the ground through a balcony on the east, bedroom with a balcony on the west. The top floor, living, dining, and kitchen, is totally open to the splendid ocean view to the south-east. The whole area of the roof above the staircase has a large skylight from which the sunlight comes down into the first floor.
The main structure is a timber construction. The three-dimensionally curved walls are shaped by grid skeletons of laminated timbers, to which 9 mm laminated timber panels are attached from both sides. The experimental trial is placed on the line of our academic researches for inventing new methods for wooden structures with the structural designer, Hirokazu Toki, for the sake of expanding the design possibilities of timber constructions.
LOCATION

Nishinomiya, Hyogo Prefecture, JP

PROGRAM

Residence

YEAR

2004-06

SIZE

334.93 sqm

STRUCTURE

Wooden construction

LEAD ARCHITECT

Satoshi Okada

TEAM

Daikichi Honma,Katrin Oechslin

COLLABORATORS

STRUCTURAL DESIGN:

Hirokazu Toki

PHOTO CREDITS:

Kenichi Suzuki