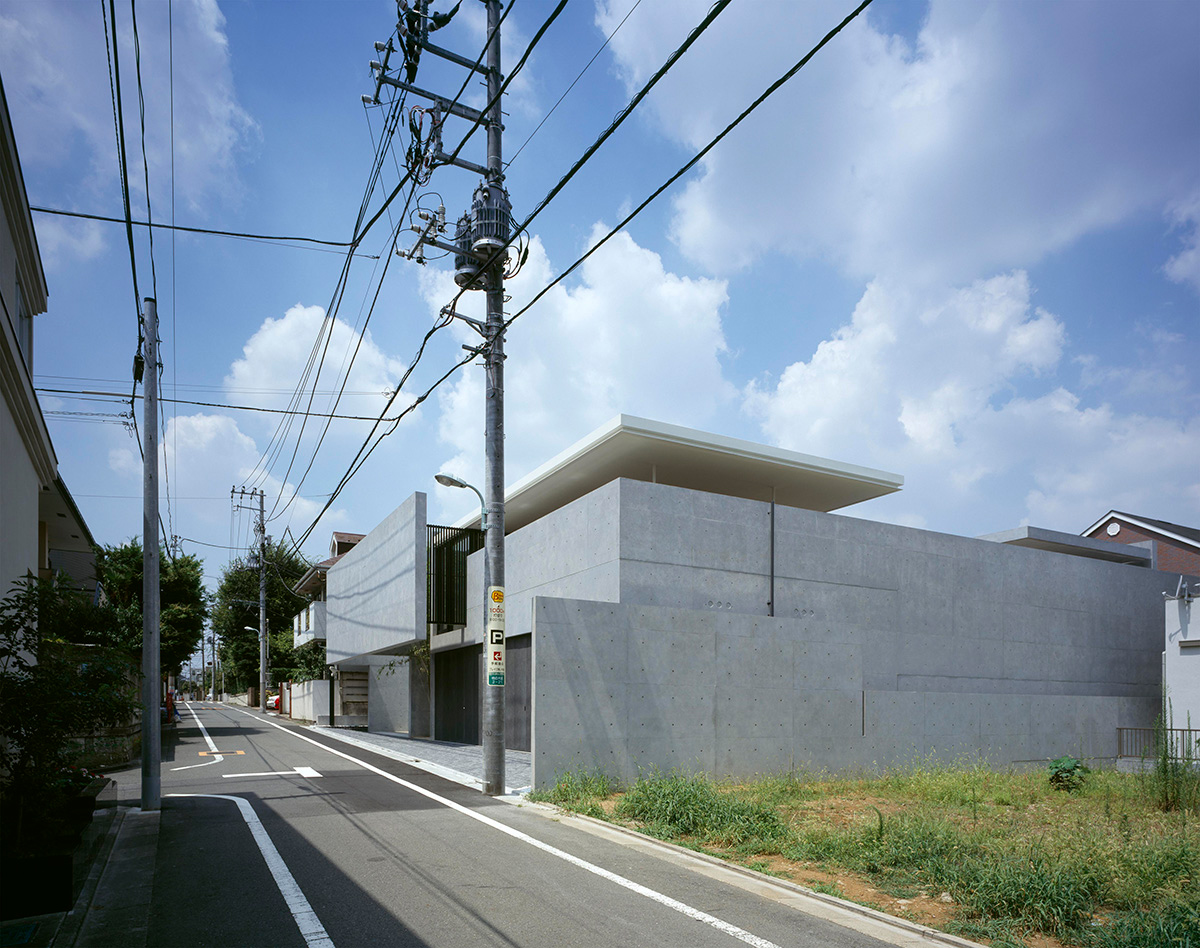 HOUSE IN KAKINOKIZAKA
HOUSE IN KAKINOKIZAKA is a single-family residence, located in an exclusive housing district in Tokyo.
The design was conceived for responding to three major requirements: garages for six vehicles - four supercars and two for daily use, a generous dwelling space and the privacy secured by a reinforced concrete enclosure.
The courtyard was considered to play a key role as a medium of various glazed spaces for creating a visual extension within the limited milieu, so that, first of all, it was allocated at the centre of the site along the east-west direction. Whereas, a circulation passage was transfixed for bridging those split areas along the north-south axis between two garages. The courtyard, as a result, was divided into two; the larger offers a landscaped garden between the supercar gallery and living areas, while the smaller serves as a lightwell for both kitchen upstairs and bathroom on the ground floor.
The high ceiling space was realised by placing the master bedroom beneath a half storey below the ground level to comply with the local sun-shadow regulation restricting the building height. The façade was articulated both horizontally and vertically to reach a scale appropriate for the finely sized context.
LOCATION

Meguro, Tokyo, JP

PROGRAM

Private residence

YEAR

2008

SIZE

456 sqm

STRUCTURE

Reinforced concrete

LEAD ARCHITECT

Satoshi Okada

TEAM

Jun Horiguchi, Lisa Tomiyama

COLLABORATORS

STRUCTURAL DESIGN:

Hirokazu Toki, Hojo Structural Laboratory

CONTRACTOR:

Sasazawa Construction Company

PHOTO CREDITS:

Satoshi Shigeta

PUBLICATIONS

INTERNATIONAL:

Haus & Auto, 21st Century Houses / 150 of the World's Best, Archello

JAPAN:

I'm home no.43 , ENGINE 03