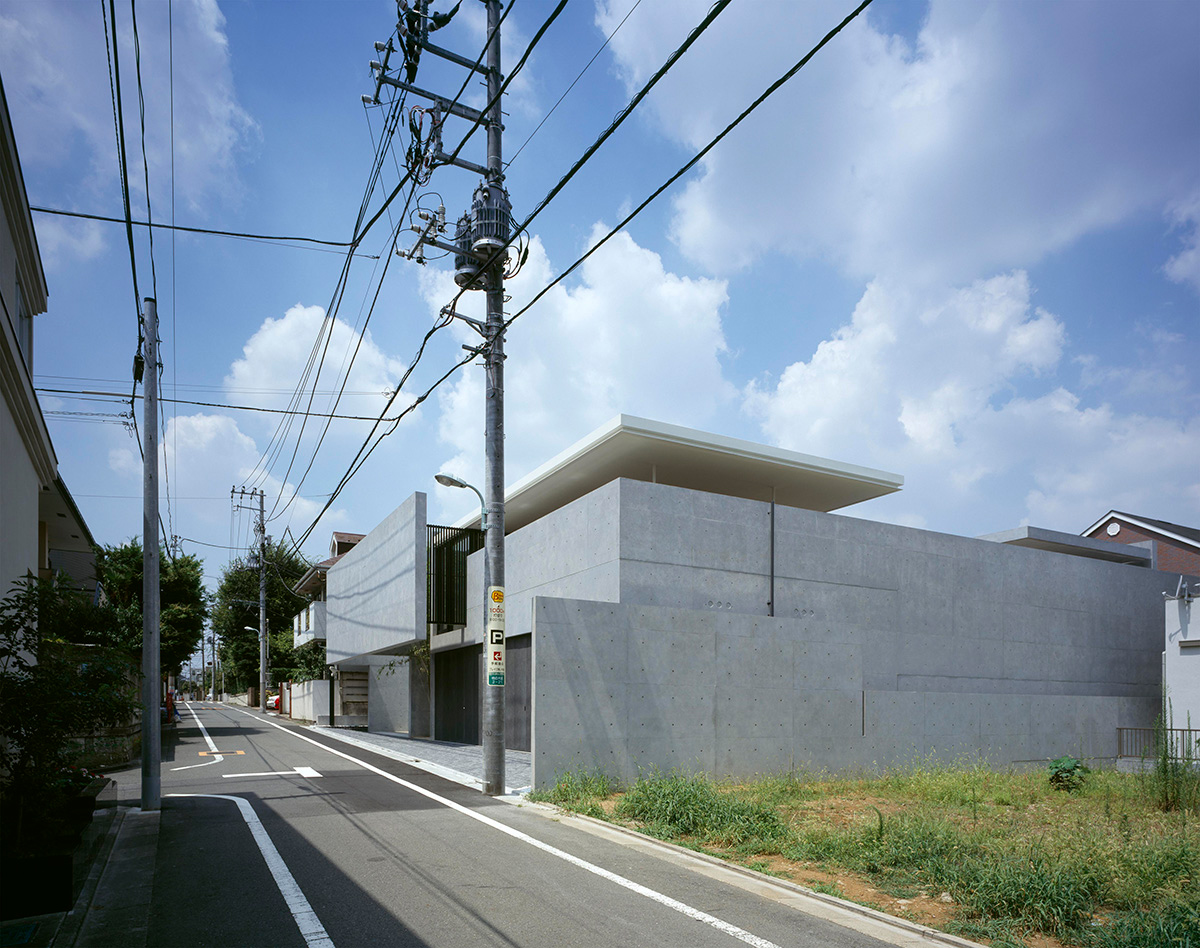 HOUSE IN KAKINOKIZAKA
HOUSE IN KAKINOKIZAKA is a single-family residence located in an exclusive housing district in central Tokyo.
The design of the house is centered around three conditions: a garage for six vehicles, a generous living space, and high privacy through a reinforced concrete enclosure.
The central courtyard brings the entire house together as a visual backdrop for the living spaces, all of which is surrounded by glass walls. This courtyard is divided into two, the larger offering a landscaped garden between the supercar gallery and living areas, along with the smaller serving as a lightwell for the kitchen on the upper level and the bathroom on the ground floor. These courtyards run in the east-west direction, and are divided by a transfixed circulation passage that runs through the two garage spaces.
The master bedroom is a half-story below the ground level, creating a high ceiling that complies with local sun-shadow regulations that restrict building heights. The building's facade includes both horizontal and vertical expressions that allow for an appropriate scale in the context of the Kakinokizaka neighborhood.
LOCATION

Meguro, Tokyo, JP

PROGRAM

Private residence

YEAR

2008

SIZE

456 sqm

STRUCTURE

Reinforced concrete

LEAD ARCHITECT

Satoshi Okada

TEAM

Jun Horiguchi, Lisa Tomiyama

COLLABORATORS

STRUCTURAL DESIGN:

Hirokazu Toki, Hojo Structural Laboratory

CONTRACTOR:

Sasazawa Construction Company

PHOTO CREDITS:

Satoshi Shigeta

PUBLICATIONS

INTERNATIONAL:

Haus & Auto, 21st Century Houses / 150 of the World's Best, Archello

JAPAN:

I'm home no.43 , ENGINE 03