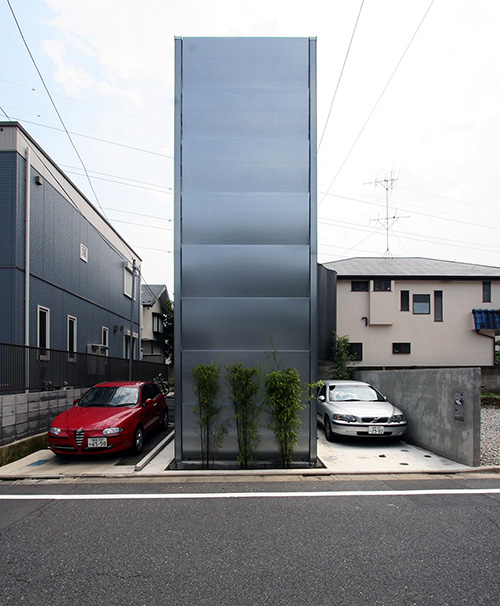 HOUSE IN HAMADAYAMA
This design aims to achieve wide, airy spaces within a typical Tokyoite residential lot, i.e. long and narrowly shaped.
The layout hence pursued sets the house as a long, solid box in which spaces overlap each other by means of a half-storey shift: the entrance is located on the ground level, above it the bedroom and services are catered for. The bathroom protrudes out of the building as a hanging box. The third and fourth levels are respectively occupied by the kitchen and dining areas and by the broad living room: through this alternation of floor levels, zenithal light is funnelled through the stairwell and reaches every room of the house.
These comfortable dimensions are allowed by the lightweight bearing system here applied: developed with the structural designer Hirokazu Toki, this timber frame consists of slender elements stiffened by the eastern bearing wall; moreover the latter absorbs the horizontal actions in case of earthquake. Wooden structure results here furthermore appropriate given the unreliable soil, weakened by a river streaming nearby.
LOCATION

Tokyo,JP

PROGRAM

Residence

YEAR

2006

SIZE

70.33 sqm

STRUCTURE

Wooden construction

LEAD ARCHITECT

Satoshi Okada

TEAM

Daikichi Honma

COLLABORATORS

STRUCTURAL DESIGN:

Hirokazu Toki

CONTRACTOR:

Tsukasa Kenchiku co.

PHOTO CREDITS:

Koichi Torimura
Satoshi Okada