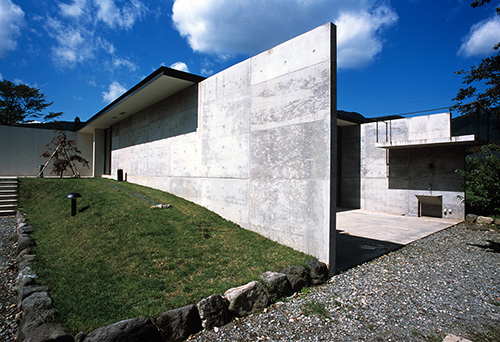 HOUSE IN HAKONE
This building was commissioned by a Japanese sculptor whose land is situated in the historical hot-spring town of Hakone, at the foot of mount Fuji.
This design lives of intersections: four cores define the primary functions of the residence while their interstitial spaces become accessory areas. Variations in the floor level contribute to determine such functions whereas a flat, continuous ceiling slab shelters all rooms equally, reestablishing the unity of the HOUSE U/snder a common canopy.
Secluded gardens are created by the intersections between outer walls and the projection of the roof on the site: this process hence blurs the boundary between in and out, bringing inside daylight and fresh air. The main bathroom, for instance, directly faces a dedicated garden, enclosed within walls for the sake of intimacy.
Structurally, the roof consists of a thin steel structure supported by two circular columns; the solid concrete walls absorb the horizontal vibrations conferring stability to the whole building. The glass facades are thus relieved of any structural role and mullions were sized as slender timber members: these, unlike metal sashes, do not get rusty when exposed to the sulphuric air of the hot-spring region. Marble tiles and oiled parquet are applied according to the function of each space.
LOCATION

Kanagawa, JP

PROGRAM

Residence

YEAR

2001

SIZE

185.60sqm

STRUCTURE

RC + steel

LEAD ARCHITECT

Satoshi Okada

TEAM

Eisuke Aida

COLLABORATORS

STRUCTURAL DESIGN:

Kenta Masaki

CONTRACTOR:

Katsumata-gumi.co

PHOTO CREDITS:

Shinkenchiku-sha , Satoshi Okada