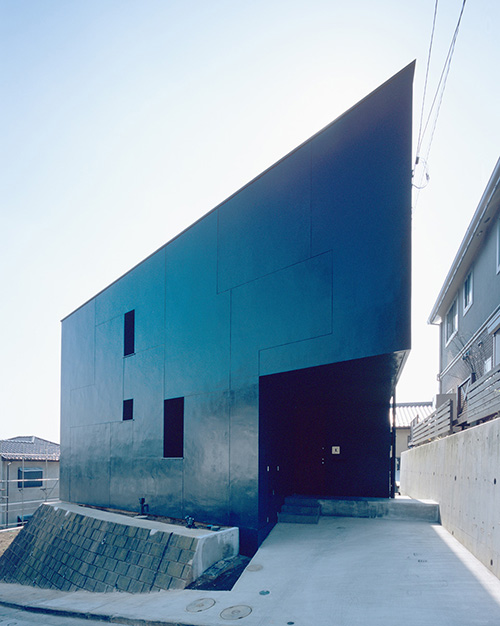 HOUSE IN EDA
Maximum In Minimum
HOUSE IN EDA was built on a small triangular lot in the outskirts of the Yokohama metropolitan area.
It is composed of two L-shaped volumes: the smaller mass houses the house's utilities and bedroom, while the larger mass contains the kitchen and dining area on its lower level, and a spacious living room on its upper level. The space is further enriched by a double-height ceiling for exceptional brightness and airyness.
The interlocked layout of the rooms are made possible by the timber structure. Exterior walls are sealed with a manually-spread ceramic compound that ornaments each surface with shine; interior walls are finished with a traditional Japanese opaque earthen plaster called tsuchikabe. Furthermore, the floors are finished with birch, marble, and granite according to their functions and aesthetic cohesion.
LOCATION

Kanagawa, Japan

PROGRAM

Residence

YEAR

2003

SIZE

113.57 sqm

STRUCTURE

Wooden Structure

LEAD ARCHITECT

Satoshi Okada

TEAM

Kentaro Iyoda

COLLABORATORS

STRUCTURAL DESIGN:

Kenta Masaki

CONTRACTOR:

Nakamura Komuten co.

PHOTO CREDITS:

Satoshi Okada