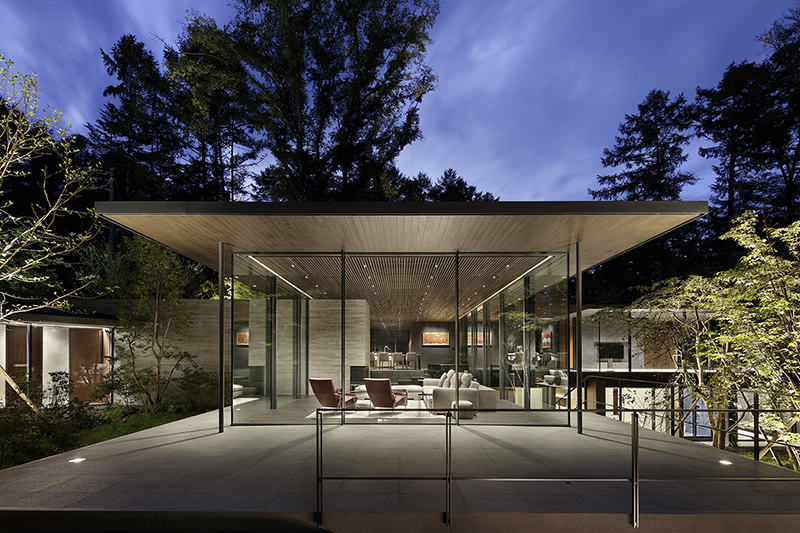 GUESTHOUSE P/k
GUESTHOUSE P/k is a recreation facility for a Tokyo based big owner company, located in the most prestigious area of Karuizawa.
The lush greenery site irregularly shaped of 2500m² is slightly inclined along a river by 4m from a public road down to the riverside edge. Among the beautiful nature, inconspicuous artifacts would rather be preferred, so that the building was designed to utilise the land's level difference to appear a single storeyed, and partially where necessary extended to its downstairs still on the ground.
The mountain retreat, seeking a harmonic dialogue with the surroundings, enables to praise its environment from different perspectives through generous glazed walls. The grand living space is articulated from the platform of kitchen and dining stepped down onto the larger relaxing area, further protruded to the spacious decks to the landscaped garden, then descends onto the thicket toward the riverside.
Based around the main living area, the master bedroom and guestrooms are secluded remote each other with bathrooms at each end. The main bathroom, particularly, extruded from the master bedroom can completely be liberated to the adjacent gardens by the glass walls being drawn aside. The sense of communion with nature is, in each room, achieved through a diverse yet consistent designs for highly sophisticated details, whose affinity lies in the tension toward an architecture open to the landscape.
A series of corten steel wall, wrapping around the site, is deliberately designed as a piece of architecture. It serves not only for protecting the privacy inside, but for intermediating between inside and outside the perimeter through various shaped slits barely noticeable from both sides.
LOCATION

Karuizawa, JP

PROGRAM

Private guesthouse and residence

YEAR

2019

SIZE

609 sqm

STRUCTURE

Reinforced concrete, steel

LEAD ARCHITECT

Satoshi Okada

TEAM

Tatsuya Terada, Eiji Iwase, Lisa Tomiyama

COLLABORATORS

STRUCTURAL DESIGN:

bi Farm

MECHANICAL DESIGN:

Yamazaki Denko, Kataoka Sekkei

LIGHTNING DESIGN:

Sirius Lightning Office

CONTRACTOR:

Sasazawa Construction Co

PHOTO CREDITS:

Satoshi Shigeta

AWARDS