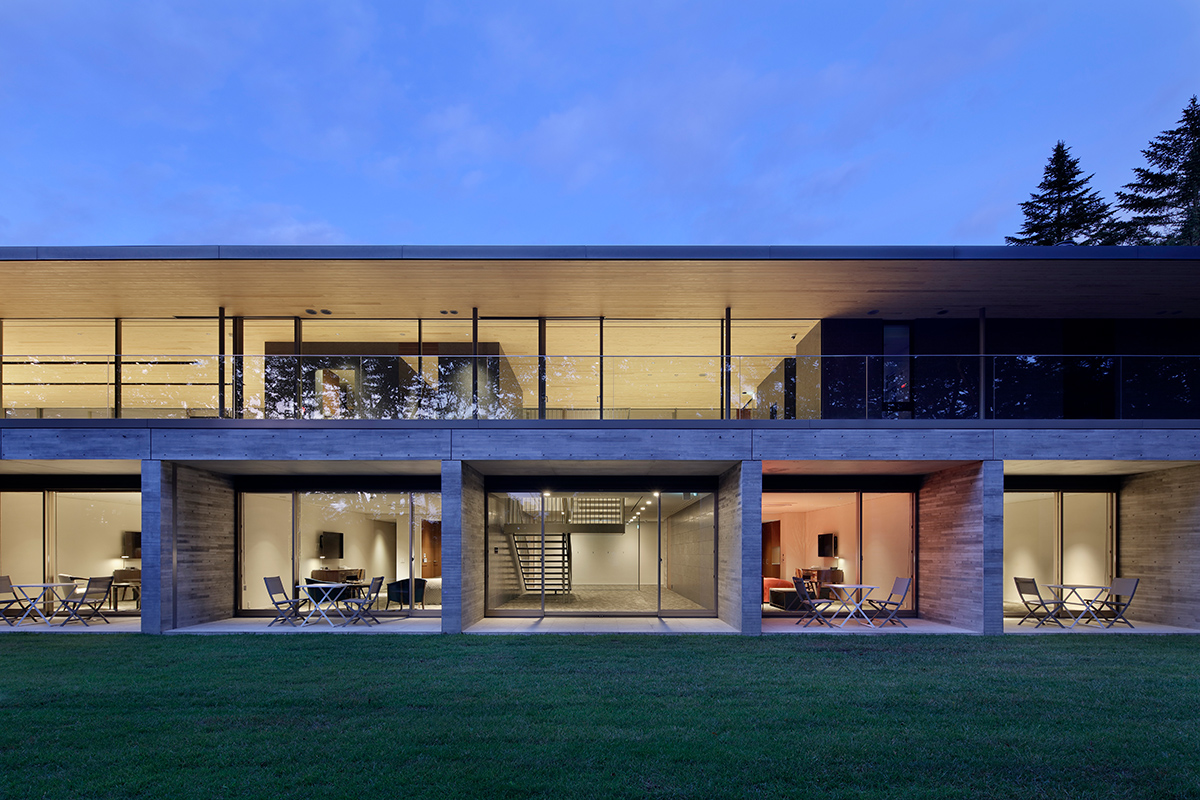 GUESTHOUSE IN KARUIZAWA
The Guesthouse in Karuizawa is a designated retreat for a Japanese company, designed to encourage the contemplation of nature through an overlooking platform amidst a lush, green environment.
The main building was completed in 2016, followed by a smaller annex completed in 2017.
To immerse the spatial experience into the surrounding forest, the entrance level is almost entirely made of glass, protruding towards a creek streaming nearby.
The deep canopy roof ensures comfort and protection while framing the panoramic view. Taking advantage of the natural topography, the most private spaces, guest rooms and Japanese spa are located on the lower level, highlighting the backdrop of the coniferous forest. The building is partially integrated into the hilly terrain, creating a slender, single-story structure when viewed from the main gate. The juxtapositions of the polished bare concrete, warm-tint timber, and stone foster a careful balance between simplicity and ornament.
LOCATION

Karuizawa, Nagano JP

PROGRAM

Private guesthouse

YEAR

2017

SIZE

2080 sqm

STRUCTURE

RC + steel

LEAD ARCHITECT

Satoshi Okada

TEAM

Lisa Tomiyama, Eiji Iwase, Tsuyoshi Oshiyama

COLLABORATORS

STRUCTURAL DESIGN:

B-Farm

CONTRACTOR:

Sasazawa Construction Company,Takahashi Kogyo co.

PHOTO CREDITS:

Satoshi Shigeta

AWARDS