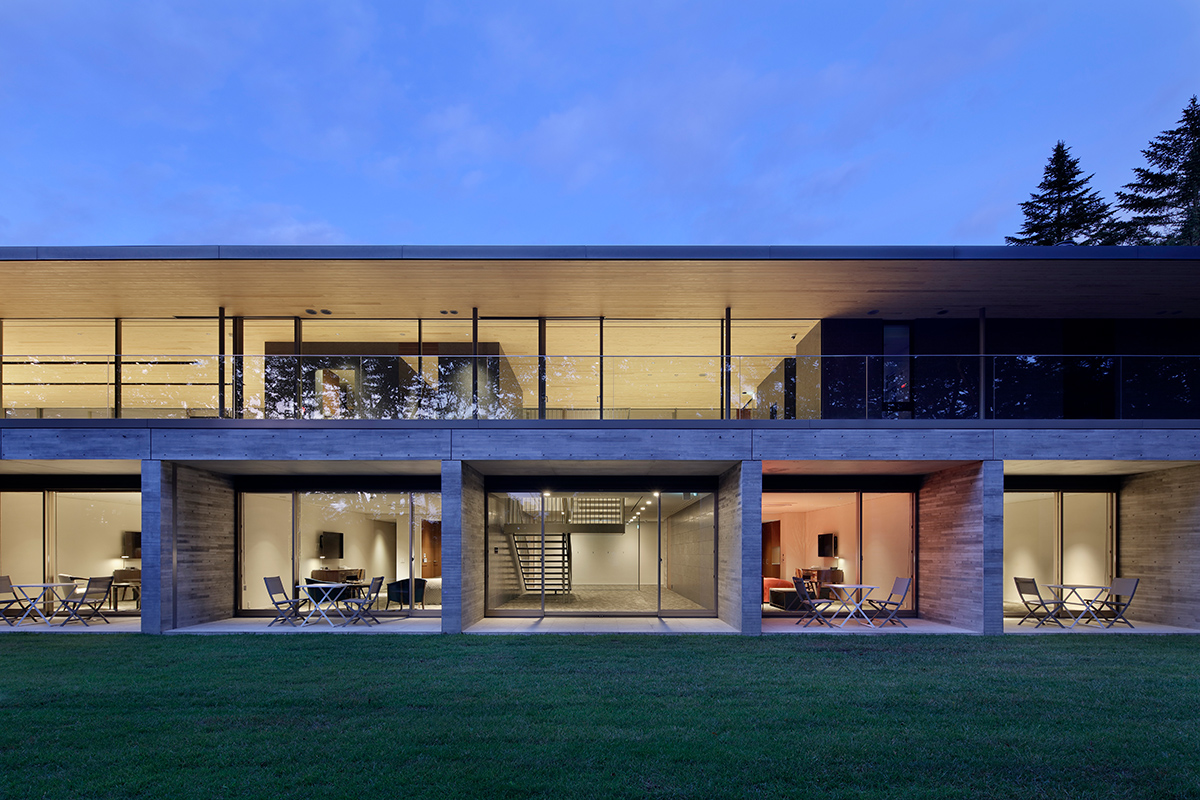 GUESTHOUSE IN KARUIZAWA
Hospitality retreat for a Japanese company: being the contemplation of nature its primary purpose, the guesthouse stands as an observation platform in the middle of a thick, lush green.
The programme envisions a main building, completed in 2016, and a smaller annex, completed in 2017.
To enhance the visitors' deep perception of the surrounding forest, the entrance storey is almost totally transparent and protrudes towards a creek streaming nearby. Yet, a deep canopy roof ensures comfort and sense of protection while framing the view into a horizontal, continuous scene. Taking advantage of the natural slope of the land, the most private spaces, guestrooms and Japanese spa, are located on the lower level, each featuring a direct contact with the coniferous wood; the building is partially sunken into the hilly terrain, so that it appears a slender single story structure when appreciated from the main gate.
The materials deployed are reduced to polished bare concrete, warm tint timber and stone juxtaposed in a careful balance between simplicity and sober elegance.
LOCATION

Karuizawa, Nagano JP

PROGRAM

Private guesthouse

YEAR

2017

SIZE

2080 sqm

STRUCTURE

RC + steel

LEAD ARCHITECT

Satoshi Okada

TEAM

Lisa Tomiyama, Eiji Iwase, Tsuyoshi Oshiyama

COLLABORATORS

STRUCTURAL DESIGN:

B-Farm

CONTRACTOR:

Sasazawa Construction Company,Takahashi Kogyo co.

PHOTO CREDITS:

Satoshi Shigeta

AWARDS