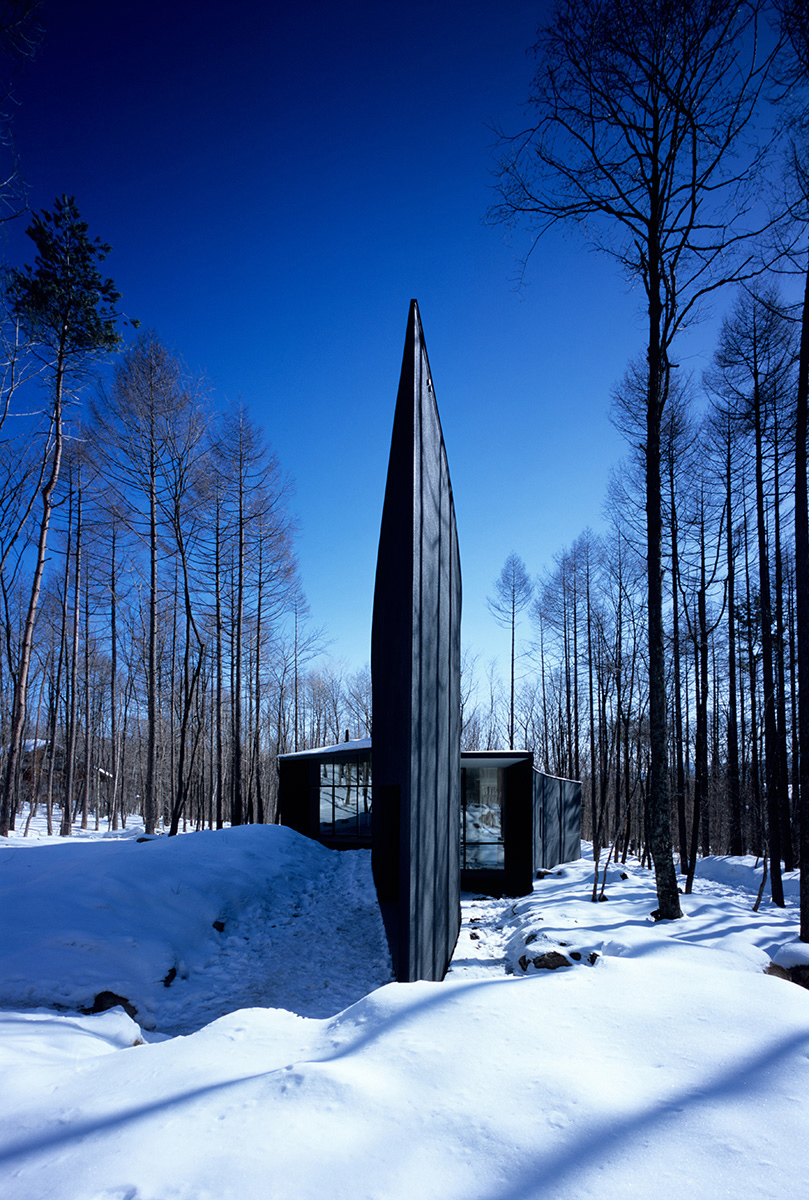 GALLERY IN KYOSATO
The Gallery in Kiyosato is designed to stimulate sensual perception above rational comprehension: the building consists of a guesthouse with an art gallery for private collections of ancient Buddhist sculptures located in forest at the foot of Mt. Yasugatake.
In order to scatter and fragment the building within the wood, interlocked slender elements were composed so that each passage becomes a switch between different sights and atmospheres. Every turning point is transparent as to offer a glance of the otherwise concealed forest.
The newly conceived Container Structure System, developed with engineer Hirokazu Toki, bears the loads of the Gallery: it consists of a ship-shaped core in which smaller spaces are encased to create an intricate sequence of fragmented views. The predominant material is local timber, stained dark.
LOCATION

Kiyosato, Yamanashi, JP

PROGRAM

Art gallery and private residence

YEAR

2005

SIZE

207 sqm

STRUCTURE

Timber

LEAD ARCHITECT

Satoshi Okada

TEAM

Isao Kato, Lisa Tomiyama

COLLABORATORS

STRUCTURAL DESIGN:

Hirokazu Toki

CONTRACTOR:

Niitsugumi Co. Ltd.

PHOTO CREDITS:

Satoshi Okada architects, Koichi Torimura

AWARDS

PUBLICATIONS

INTERNATIONAL:

Futu Magazine 6-7/2007, l'Arca vol. 224, 100 Country Houses, 10×10/3 - 100 Architects 10 Critics, Almanac of Architecture & Design 2007, Taburet 1/2007, 50+Vacation Homes, Casabella vol. 734, Japan Houses, Archidaily

JAPAN:

Contemporary Architecture in Japan vol.4, DETAIL 180, Journal Of Architecture And Building Science vol.123, GA Houses 87, JIA Architect of the Year 2006