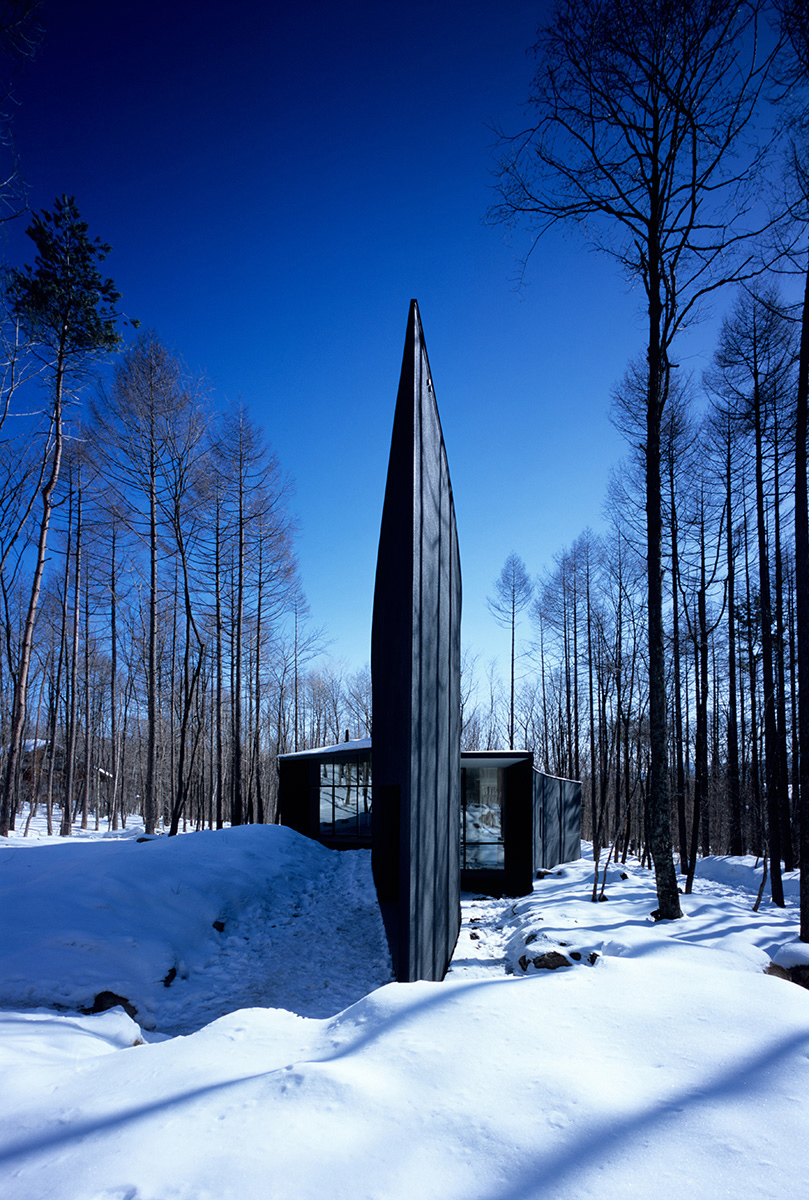 GALLERY IN KYOSATO
In the site, narrow and deep toward the depths, the building naturally follows the condition to unfold into a long figure and commands the view of primeval woods expanded southward. The first imagination to architectural design came from the painting, Le Blanc-Seing by René Magritte in 1966; gradually developed with taking forms of fragmentation into a building.
The building consists of four elements; all of them are ship-shaped, and each functions not only as a structure for keeping the building stable, but as a container for embracing roles where necessary. The first element is dedicated to the entrance hall, literally a gallery for arts. Three others contain kitchen, toilets, stairs, storages, closets and even small niches for exhibition. Spaces between those elements serve for resting, seating, eating, drinking, sleeping and whatever related to the gallery.
The spatial scheme was formulated into the theory of CSS (Container Structure System) invented in this project. In one building composed of plural cores, the space between these cores is addressed primary space. At any end, it is demarcated by entirely glazed walls to define interior spaces; the less articulated space is for more liberated functions. While the space inside each core, named secondary space, interactively works for the primary space. The spatial dimension and shape are determined by each function for predictable activities in the primary space.
LOCATION

Kiyosato, Yamanashi, JP

PROGRAM

Art gallery and private residence

YEAR

2005

SIZE

207 sqm

STRUCTURE

Timber

LEAD ARCHITECT

Satoshi Okada

TEAM

Isao Kato, Lisa Tomiyama

COLLABORATORS

STRUCTURAL DESIGN:

Hirokazu Toki

CONTRACTOR:

Niitsugumi Co. Ltd.

PHOTO CREDITS:

Satoshi Okada architects, Koichi Torimura

AWARDS

PUBLICATIONS

INTERNATIONAL:

Futu Magazine 6-7/2007, l'Arca vol. 224, 100 Country Houses, 10×10/3 - 100 Architects 10 Critics, Almanac of Architecture & Design 2007, Taburet 1/2007, 50+Vacation Homes, Casabella vol. 734, Japan Houses, Archidaily

JAPAN:

Contemporary Architecture in Japan vol.4, DETAIL 180, Journal Of Architecture And Building Science vol.123, GA Houses 87, JIA Architect of the Year 2006