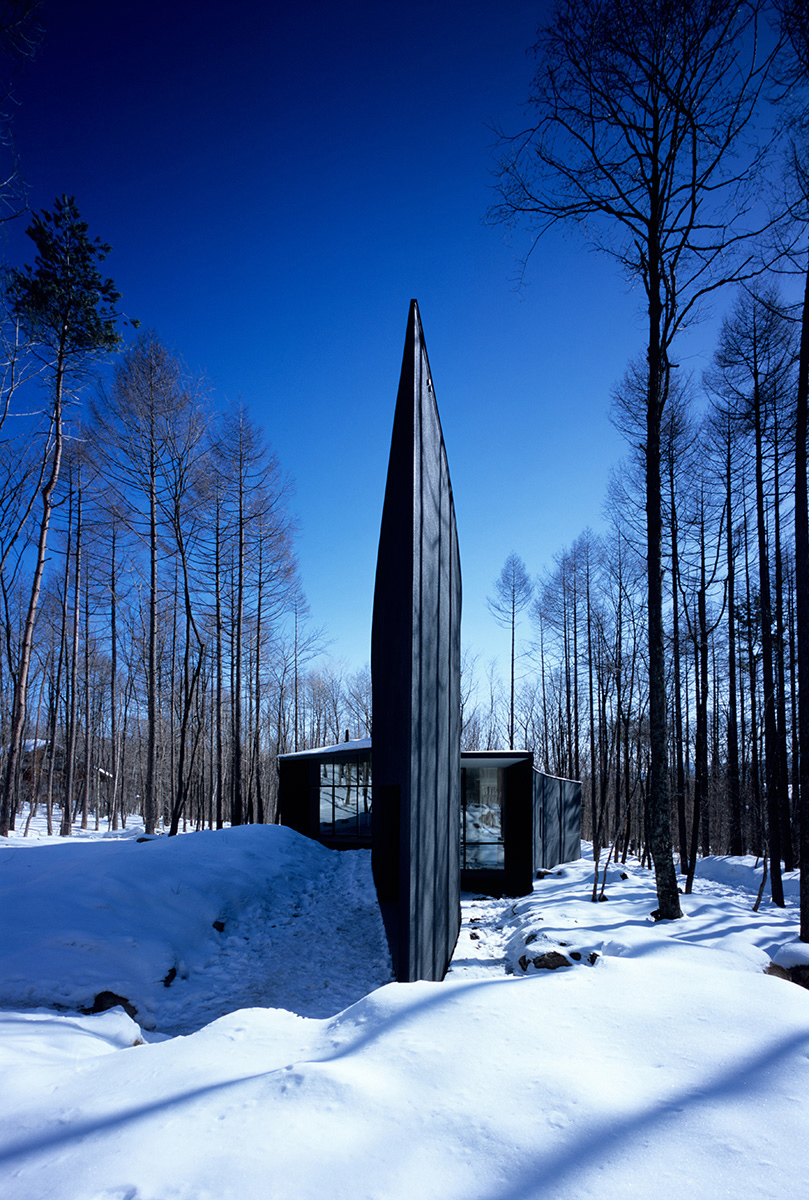 GALLERY IN KYOSATO
GALLERY IN KIYOSATO is located in the lush woods of the Kiyosato Highlands in Yamanashi, Japan. The gallery sits on a narrow, deep site, in which the building follows the area's composition through its tapered design, and commands the view of the dense forest. Initially, the architectural design was inspired by the painting, Le Blanc-Seing by Rene Magritte in 1966, and later developed through developing fragmented construction for the building.
The building is composed of four ship-shaped elements, each functioning not only as structural supports, but also as spaces for vital utilities. The first element demarcates the entrance hall, functioning as a gallery for arts. The three other elements house the kitchen, restroom, stairs, storage, closets and even small niches for exhibition. Spaces between these elements are multifunctional - for resting, seating, eating, drinking, sleeping and more.
The process of formulating this spatial composition theorized the Container Structure System (CSS). In the Container Structure System, each element - or room - of the building is defined by containers. The containers are heterogeneously designed and arranged to create spaces both in between the containers and in the containers themselves, producing two types of spaces: primary and secondary space. Primary space, as the name implies, defines the most prominent areas of the structure located between the containers. Primary spaces are demarcated by transparent glass walls, allowing for multifunctional, open living. On the other hand, secondary spaces, the spaces in the containers themselves, function as designated utilitarian spaces for the building. Through the symbiosis of primary and secondary spaces, the CSS creates a clear distinction between private and public space within the home.
What distinguishes the CSS beyond its spatial function is its efficiency in construction. Containers for the CSS can be prefabricated, meaning that minimal assembly takes place on-site, drastically reducing construction times and costs.
LOCATION

Kiyosato, Yamanashi, JP

PROGRAM

Art gallery and private residence

YEAR

2005

SIZE

207 sqm

STRUCTURE

Timber

LEAD ARCHITECT

Satoshi Okada

TEAM

Isao Kato, Lisa Tomiyama

COLLABORATORS

STRUCTURAL DESIGN:

Hirokazu Toki

CONTRACTOR:

Niitsugumi Co. Ltd.

PHOTO CREDITS:

Satoshi Okada architects, Koichi Torimura

AWARDS

PUBLICATIONS

INTERNATIONAL:

Futu Magazine 6-7/2007, l'Arca vol. 224, 100 Country Houses, 10×10/3 - 100 Architects 10 Critics, Almanac of Architecture & Design 2007, Taburet 1/2007, 50+Vacation Homes, Casabella vol. 734, Japan Houses, Archidaily

JAPAN:

Contemporary Architecture in Japan vol.4, DETAIL 180, Journal Of Architecture And Building Science vol.123, GA Houses 87, JIA Architect of the Year 2006