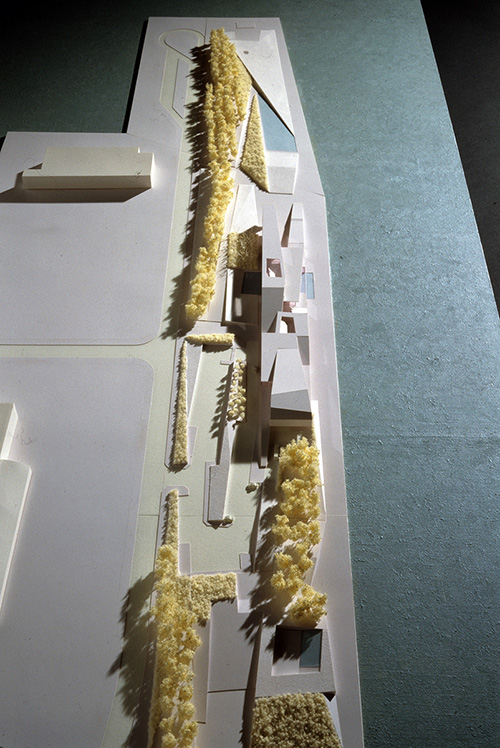 COMMUNITY CENTRE
The COMMUNITY CENTER in Miyako is a proposed design for a multifunctional public facility in Miyako City, Iwate Prefecture. The site is at the mouth of the Hei River to Miyako Bay, famous for its ria coastline on the Pacific Ocean.
The center functions as a local community space and a thalassotherapy facility, both linked to the seaside park. The Mayor, a medical doctor, considered the building for the health of the Miyako City citizens. Because of the area's devastating history of the tsunami on March 11th, 2011, significant considerations were taken into the building design to reduce the wave load on the seaside edge.
Intentional building and park design was necessary on the long, flat site to integrate the facility into its environment. To mitigate the impact of tsunami waves, the park was planned at the tip of the wharf, which the community center building faced. The building, linked to the thalassotherapy building, is continuous through its horizontal folded planes shaping a closed circuit. In the community center building, the entrance hall houses an information center for tourism and an administration office on the ground floor, a restaurant with a roof terrace and assembly rooms on the first floor, and meeting rooms on the second floor. In the thalassotherapy building, the entrance hall includes a store, relaxation room, staff room, and machine room are on the ground floor, and pools and small rooms for thalassotherapy are on the first floor. There are two entrances for each building, and the two facilities are connected internally via the first floor.
Similar to the Town Hall in Nakasato, Japanese local authorities have been eager for self-establishment. Tourism considerably stimulates the regional economy; however, multiple attempts at revitalizing the community were proven unsuccessful. Architectural design is ever prominent in empowering the city of Miyako. Distinctively striking buildings to the local citizens and tourists would anchor the younger generation to these local regions and encourage them to take pride in their city.
LOCATION

Miyako, Iwate Prefecture,JP

PROGRAM

Community center

YEAR

2001-02

LEAD ARCHITECT

Satoshi Okada

TEAM

Toru Kijima,Isao Kato

COLLABORATORS

STRUCTURAL DESIGN:

Mitsuhiro Kanada(Arup Japan)

PHOTO CREDITS:

Satoshi Shigeta