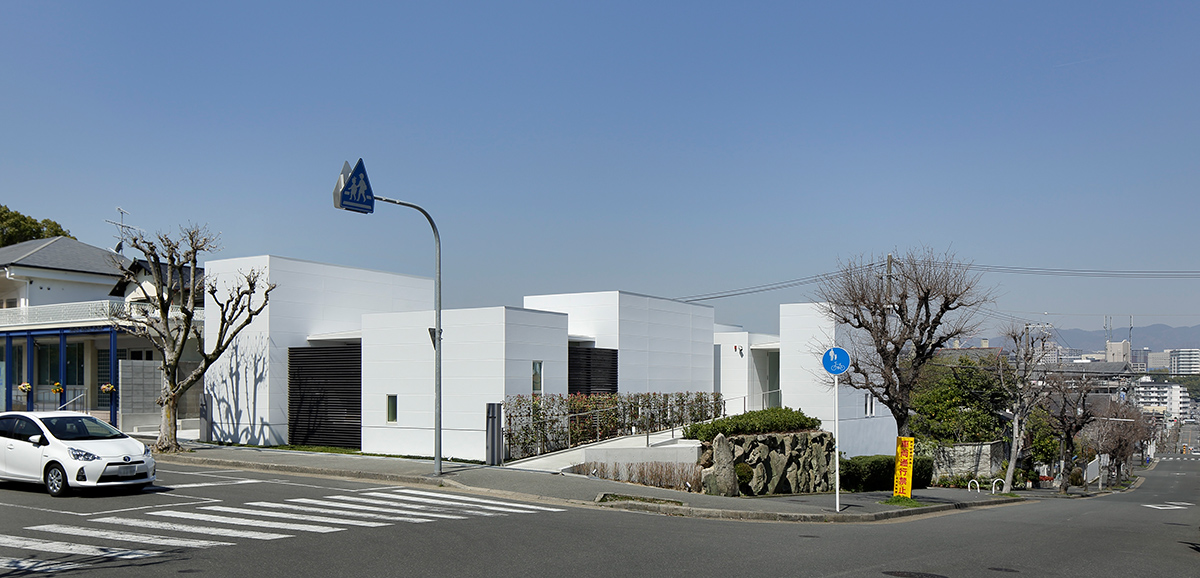 CLINIC N/m
CLINIC N/m is located around the edge of a gentle inclination reminiscent of the hills developed for Senri New Town in the 1960s, where small medical facilities are grouped to form a special complex along the perimeter of a regular residential district.
The building consists of a clinic and an adjacent residence for the doctor's family.
The medical activities were required to continue in the existing facility while remodeling, so that the construction works were conducted in two phases. First, the new clinic was built on the vacant portion rest of the lot along the sloping ground. After the clinic moved to the new building, the existing structure was demolished to make way for a new residential wing.
The structure is wooden, single-storeyed. Applied the principle of CSS (cf. GALLERY IN KIYOSATO), eleven simple cores - seven for the clinic and four to the residence - with various functions are arranged where necessary. They are connected to one another by completely glazed walls to form an organic entity. This building best examples the validity of CSS serving for the "flexibility of extension/reduction on buildings" in architectural design.
LOCATION

Suita, Osaka, JP

PROGRAM

Clinic and private residence

YEAR

2015

SIZE

257 sqm

STRUCTURE

Timber

LEAD ARCHITECT

Satoshi Okada

TEAM

Jun Horiguchi, Lisa Tomiyama

COLLABORATORS

STRUCTURAL DESIGN:

S3 Associates Inc.

CONTRACTOR:

PHOTO CREDITS:

Satoshi Shigeta

PUBLICATIONS