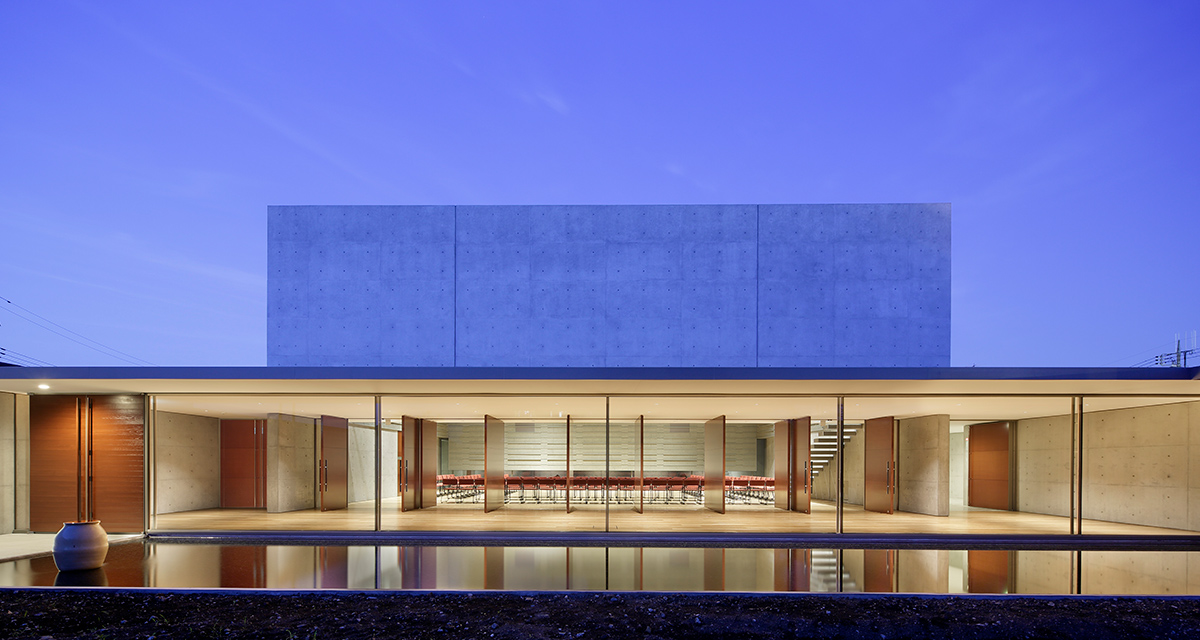 CHABOHIBA HALL
CHABOHIBA HALL is a well-established community center in a residential district on the west outskirts of Tokyo.
The hall hosts concerts, musicals, exhibitions and many other cultural activities for the local community. The space revolves around the monumental center called chabohiba: a cypress tree over a century old embodying the community's rich history. The auditorium houses one hundred people, and was constructed in collaboration with Nagata Acoustics, a Japanese company specializing in sound environments. Their work is critically-acclaimed by professional musicians in both their recording studios and TV-production spaces.
The auditorium and courtyard can be amalgamated as one space through rotating red-brown wooden panels, creating an unobstructed view of the symbolic tree in the center of the courtyard.
Several local artifacts excavated during construction were repurposed to honor the history of the site. A large, unglazed ceramic placed in a shallow water basin works as an outlet for the water feature with flowing water from the underground; stones of various shapes and sizes are reborn as elements of the tranquil rock garden framing the auditorium space.
LOCATION

Tokyo, JP

PROGRAM

Cultural venue

YEAR

2015

SIZE

612 sqm

STRUCTURE

RC + steel

LEAD ARCHITECT

Satoshi Okada

TEAM

Tatsuya Terada, Lisa Tomiyama

COLLABORATORS

STRUCTURAL DESIGN:

S3 Associates

SOUND DESIGN:

Nagata Acoustics (Nagata Acoustics: news)

CONTRACTOR:

Nihon Construction Co.

PHOTO CREDITS:

Satoshi Shigeta

AWARDS