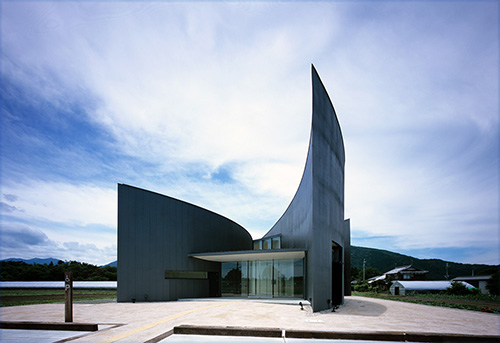 AGRI-COMMUNITY CENTER
This community center is located in Shiga Prefecture, in a region historically devoted to agriculture. Due to the globalized conditions of the farming system, the local community struggled to maintain its small scale enterprises and the profit derived from the crops gradually declined.
The project seeks to revitalize this economically depressed area by encouraging eco-tourism, fostering therefore a cultural exchange between urban dwellers and farmers.
The building is conceived as a multi-purpose hall in which each activity pertains to a ship-shaped core. The interstices between the curvy cores are transparent as to suggest the appreciation of the surrounding landscape. Such layout allows full interaction between different activities, such as cooking sessions, workshops and social gatherings. The construction system here applied, Container Structure System, has been developed earlier with engineer Hirokazu Toki and validated with the construction of the Kyosato Gallery.
LOCATION

Takashima, Shiga, Japan

PROGRAM

Community Center

YEAR

2006

SIZE

449.72 sqm

STRUCTURE

Wooden Structure, 2story

LEAD ARCHITECT

Satoshi Okada

TEAM

Mizuhara Architectural Design Office

COLLABORATORS

STRUCTURAL DESIGN:

Hirokazu Toki

CONTRACTOR:

Ohyama Kensetsu Co. Ltd.

PHOTO CREDITS:

SS Osaka

LINKS