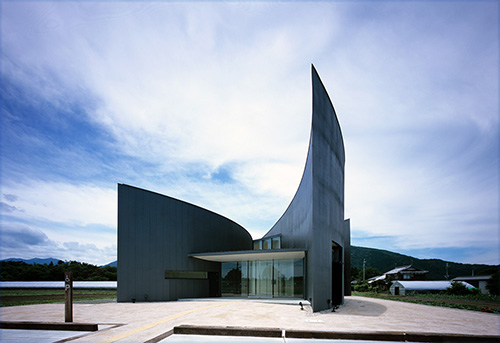 AGRI-COMMUNITY CENTER
The AGRI-COMMUNITY CENTER is located in Shiga Prefecture, a region with historic ties to agriculture. Due to the globalization of the farming systems, the local community struggled to maintain its small scale farms, ultimately leading to a decline in profits.
The project seeks to revitalize the local agriculture industry by encouraging eco-tourism: a cultural exchange between urban dwellers and farmers.
The multi-purpose building is designed by the Container Structure System through its containers of different functions. The spaces between the curved containers are demarcated by glass walls, highlighting the view of the surrounding landscape. Its layout allows for interactions between different activities, such as cooking sessions, workshops and social gatherings.
LOCATION

Takashima, Shiga, Japan

PROGRAM

Community Center

YEAR

2006

SIZE

449.72 sqm

STRUCTURE

Wooden Structure, 2story

LEAD ARCHITECT

Satoshi Okada

TEAM

Mizuhara Architectural Design Office

COLLABORATORS

STRUCTURAL DESIGN:

Hirokazu Toki

CONTRACTOR:

Ohyama Kensetsu Co. Ltd.

PHOTO CREDITS:

SS Osaka

LINKS