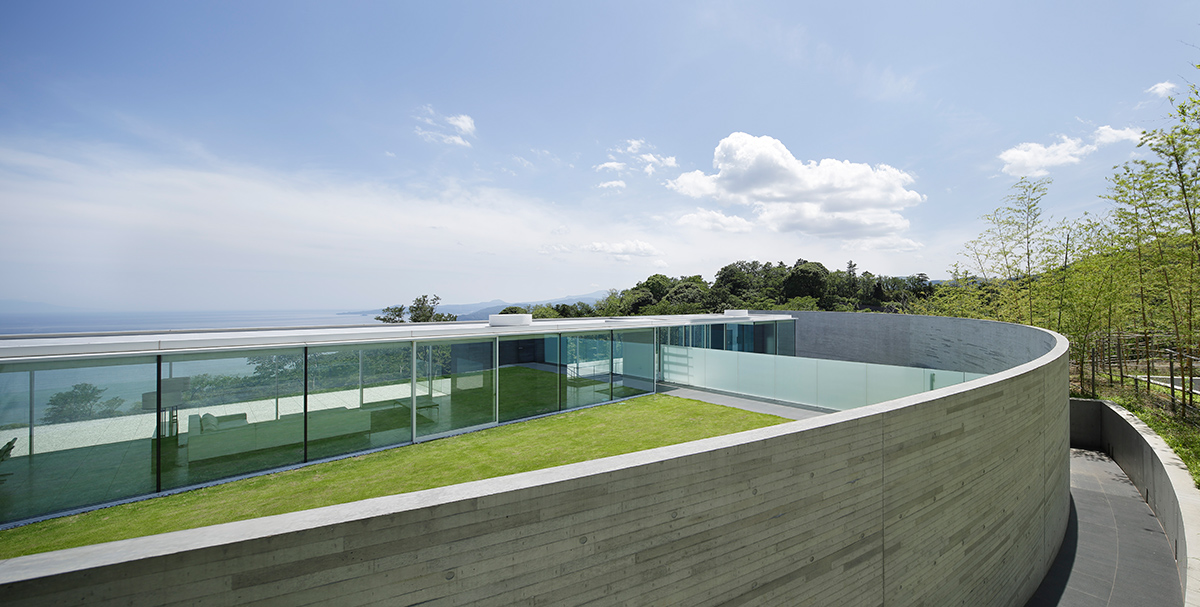 VILLA U/a
VILLA U/a is located on a mountain peak in Shizuoka, Japan, overlooking the Pacific Ocean.
The broad land of 70,000 square meters is surrounded by a lush forest, leading down towards the coast. In response to the client's philosophical aspiration in pursuing the architecture of timelessness, the villa was designed to embody dignity rooted in purity and simplicity.
Amongst the expanse of trees, the property is demarcated by a semi-circle of 50 meters in diameter on a relatively-flat mountain edge. Only the upper level of the two-story building is visible from its entrance; the lower level is hidden through utilizing the site's topography. The entire structure is only fully visible from the seaside. The circular wall responds to the geographical contour lines, both to strengthen the retaining wall of the structure and differentiate the space for living.
A gently-curved driveway, passing through the bamboo forest, leads into an underground tunnel towards the garage adjacent to the private entrance. The lower floor is dedicated to the bedrooms, all finished with stone and delicately-crafted timber fittings. In particular, the upwards-sloping topography behind the main bedroom reflects sunlight into the room. On the other hand, the second floor is distinguished as the public space of the villa, designed with transparent glass walls and steel structures throughout. The living space next to the main entrance extends to both a generous terrace toward the ocean and an enclosed garden (hortus conclusus). The open spa, secluded on the other end of the structure, captures a splendid ocean view.
LOCATION

Shizuoka, JP

PROGRAM

Private residence

YEAR

Phase I: 2013, Phase II: ongoing, completion expected in 2018

SIZE

746 sqm

STRUCTURE

RC + steel

LEAD ARCHITECT

Satoshi Okada

TEAM

Daikichi Homma, Junpei Kizu, Lisa Tomiyama

COLLABORATORS

STRUCTURAL DESIGN:

Hirokazu Toki + S3 Associates Inc.

CONTRACTOR:

Daido Kogyo Co.

PHOTO CREDITS:

Satoshi Shigeta

PUBLICATIONS

JAPAN:

X - Knowledge 2/2016, Modern Living Luxury Houses, Shinkenchiku jt 9/2014, Modern Living 212, GA Houses 134