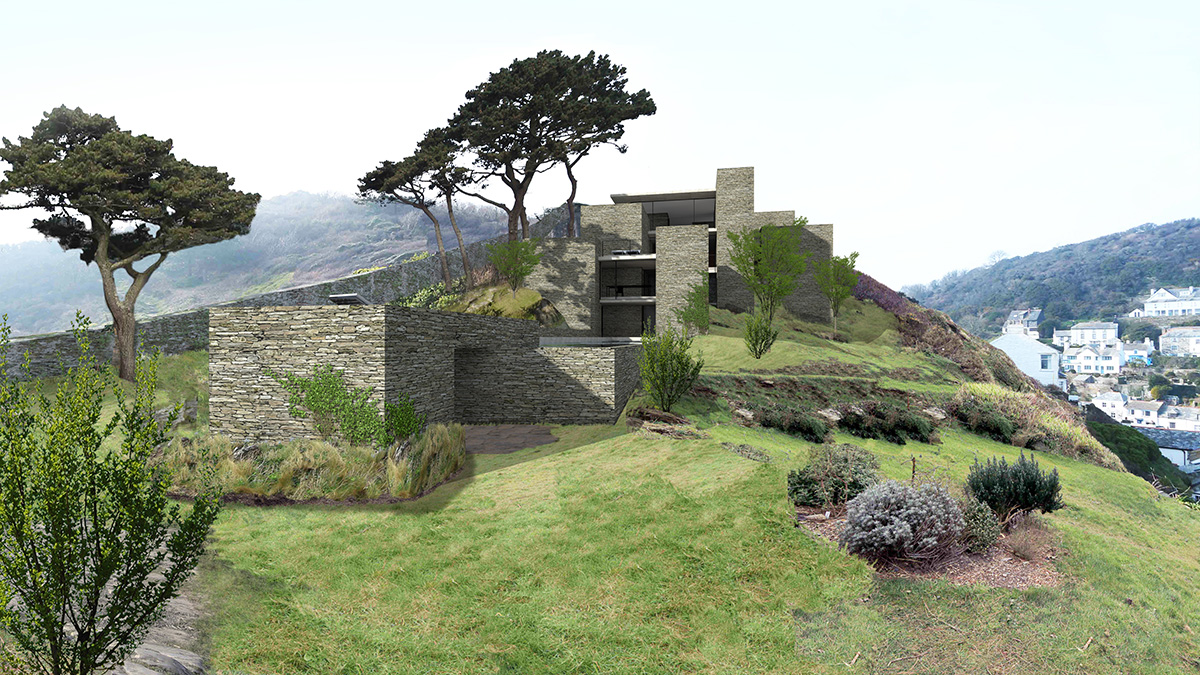 VILLA IN POLPERRO
VILLA IN POLPERRO is a vacation house in Polperro, England, a historic Cornish fishing village on the English Channel. The villa was designed for a client based in London, a distinguished collector of Rene Lalique.
Neighboring land conserved by the National Trust, the site is located on a craggy hill on the coast ? a splendid panorama from the town to the Channel. In recognition of the historic environment of the village, the design of the villa emulates local geography, including the use of native stone. Using the principles of the Container Structure System derived from the GALLERY IN KIYOSATO project, the building is made up of nine containers linked by glass spaces. Each container serves in both the reinforcement of structure and enhancement of function. The containers are connected by both glass walls and outside deck spaces, adapting to the sloping terrain of the site.
A walkway along the hilly topography leads to the first slender container, then into the main entrance hall, from which an elevator and stairs lead to all floors. The uppermost level is devoted to a spacious living, dining, and kitchen space that continues into outdoor terraces in every direction. Downstairs, bedrooms and skylit bathrooms surround a lounge directly linked to the main entrance hall, where storage and building equipment are hidden under the rocky landform. The private spaces of the building extend onto an elongated platform containing a swimming pool in the landscaped garden.
LOCATION

Cornwall, UK

PROGRAM

Residence

YEAR

in progress

SIZE

745.00 sqm

STRUCTURE

Reinforced concrete

LEAD ARCHITECT

Satoshi Okada

TEAM

Tatsuya Terada, Izumi Kobayashi,Lisa Tomiyama

COLLABORATORS

PHOTO CREDITS:

Satoshi Okada architects