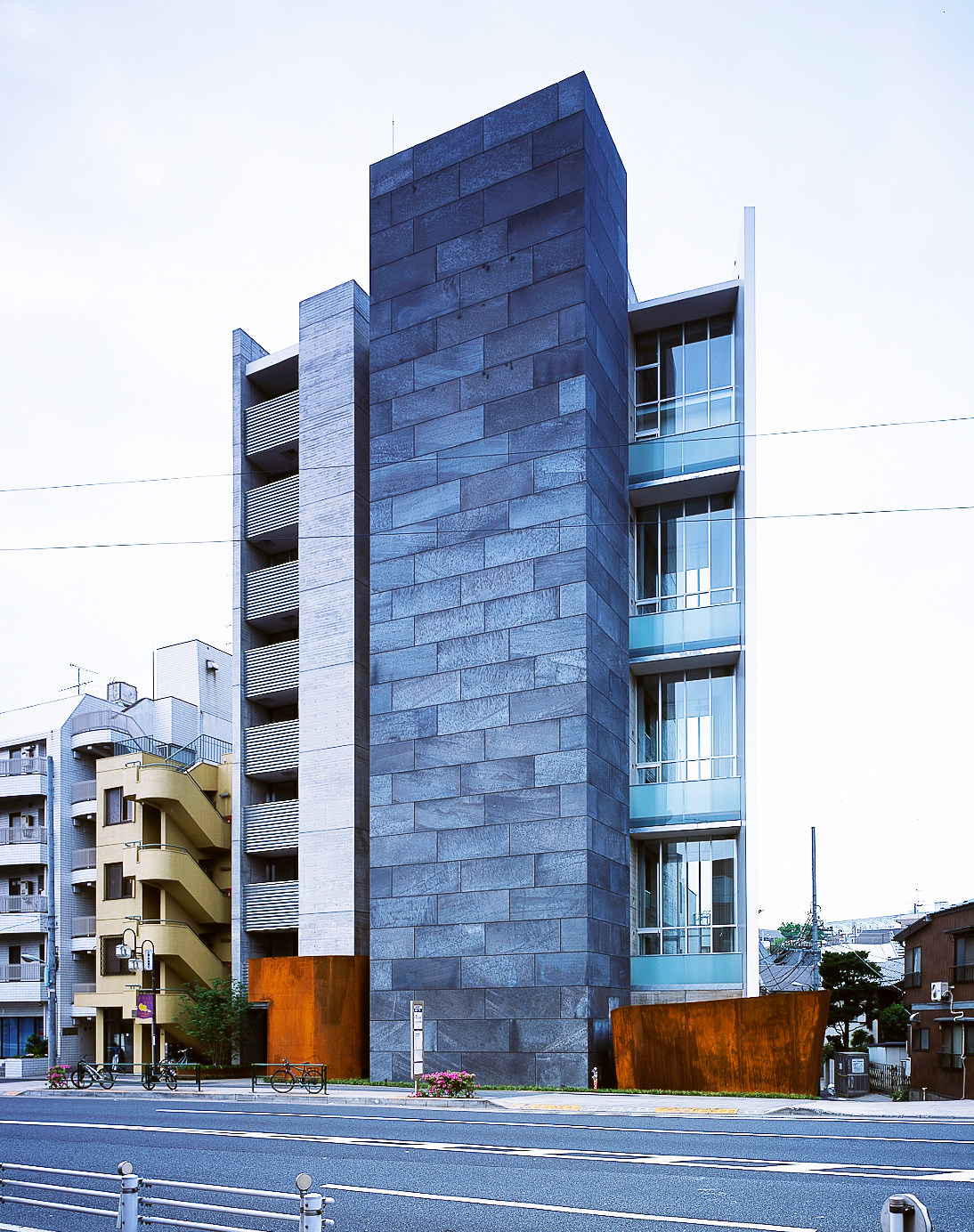 TOMIGAYA APARTMENT
TOMIGAYA APARTMENT is a high-rise apartment building located on a major thoroughfare towards the Harajuku city center - about a ten-minute walk from the Tokyo Olympic Gymnasium by Kenzo Tange.
Commercial buildings line the main road, obstructing the dense, complex urban fabric packed with small traditional houses on cramped alleyways.
The nine-story building consists of seven types of residential spaces with eighteen housing units in total, designed into three rectangular prisms to condense its volume within the site. The south-facing residential units are composed of two detached volumes, each with a common floor deck in between the units. On the north side, the galvanized-steel exterior of the apartment building is purposefully tarnished by phosphoric acid to create a charcoal-silver finish. This north building houses the elevator, emergency staircase, and equipment ducts to centralize the circulation of individuals.
Human-scaled rusty curvatures highlight the main entrance at the foot of the large, austere building. Hidden within these contrasting boundary walls are also a bicycle shed, garbage disposal, and electrical utility. These enigmatic orange-brown walls are made of one-centimeter-thick corten steel, welded by shipbuilding technologies that ensure seamless waterproofing.
LOCATION

Tokyo, JP

PROGRAM

Apartment building

YEAR

2005

SIZE

1488 sqm

STRUCTURE

Reinforced concrete

LEAD ARCHITECT

Satoshi Okada

TEAM

Kentaro Iyoda, Toru Kijima, Masayuki Kaneko, Lisa Tomiyama

COLLABORATORS

STRUCTURAL DESIGN:

Mitsuhiro Kanada, Masamichi Sasaki, Ove Arup & Partners

CONTRACTOR:

Satohide Co. Ltd.

PHOTO CREDITS:

Koichi Torimura

AWARDS

PUBLICATIONS

INTERNATIONAL:

Futu Magazine 6-7/2007, Casabella vol. 738, Yuksek Yogunluklu Konutlar, Arquitectura Mineral, Innovative Apartment Buildings, Viviendas Sociales (Communal living)