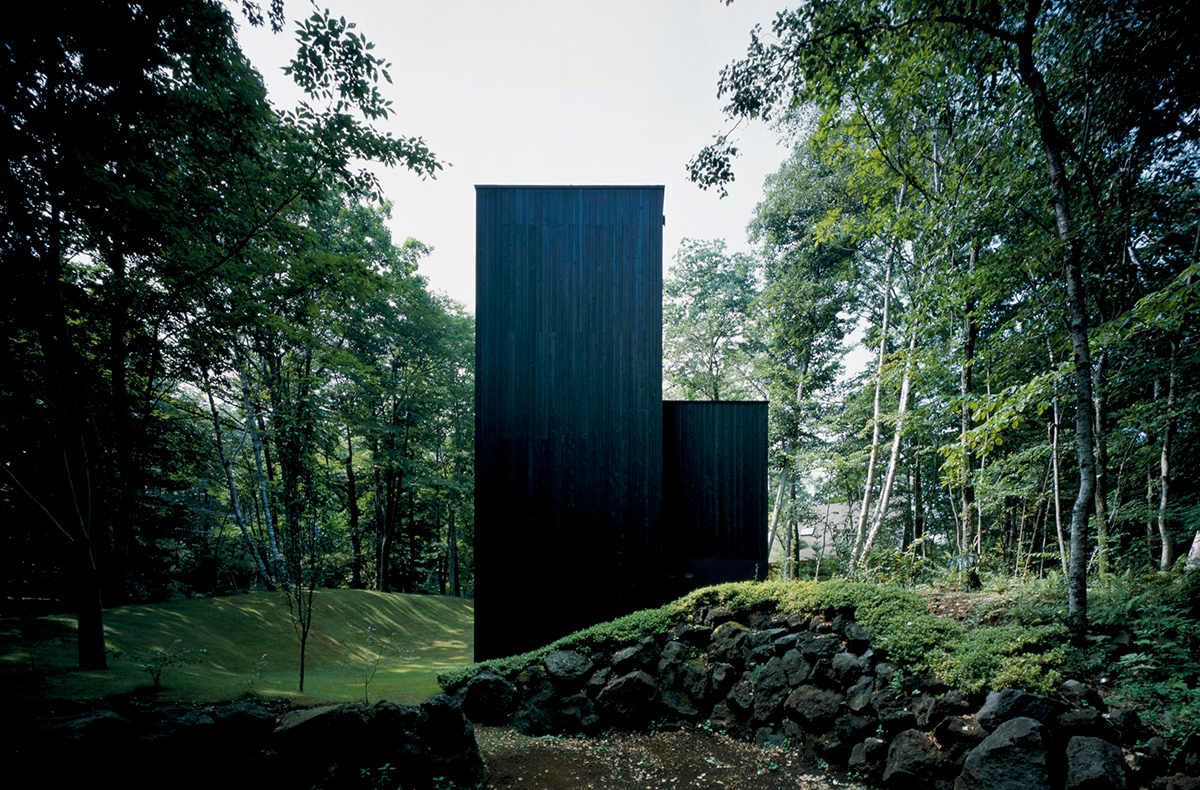 HOUSE IN MT FUJI
HOUSE IN MT. FUJI is a two-story weekend house located in the northern foothills of Mt. Fuji.
This undulating site of hardened black lava is lush in a centuries-old deciduous forest. The building is five meters wide and 24 meters long, its diagonal wall shaping the experience of the house in three critical ways. First, it distinguishes the building into two separate realms; the larger to the south is dedicated to a 'public' living space made up of the living, dining, kitchen and the loft above, while the smaller northward space is dedicated to the 'private' area of bedrooms, bathrooms and building utilities. Second, the diagonal wall yields forced perspective in the interior, further emphasized by the sloping ceiling to enrich the spatial experience. Third, the exterior incline leaves a less oppressive impression on its surroundings, as it follows the slope of the nearby topography. Finally, the diagonal wall is tectonically sound, as folded planes endure stress better than perpendicular planes.
The building finished with black-stained Japanese cedar cohesively integrates with the green landscape, reminiscent of upturned earth amongst the dormant magma underneath, creating a shadow within the forest.
LOCATION

Karuizawa, Yamanashi, JP

PROGRAM

Private residence

YEAR

2000

SIZE

139 sqm

STRUCTURE

Timber

LEAD ARCHITECT

Satoshi Okada

TEAM

Eisuke Aida, Lisa Tomiyama

COLLABORATORS

STRUCTURAL DESIGN:

Kenta Masaki

CONTRACTOR:

Ide Kogyo Co. Ltd.

PHOTO CREDITS:

Satoshi Okada architects, Katsuhisa Kida

AWARDS

PUBLICATIONS

INTERNATIONAL:

Bravacasa 02/2012, Konsept Projeler 2012, 200 Houses 2011, Architectural Creations 01/2009, 200 Outstanding House Ideas 2009, Hise vol. 47, FUTU Magazine 06-07/07, Grand Designs no. 032, DOMES vol. 46, New Country House 2005, The Contemporary Guesthouse 2005, Living Plans 2005, Today's Country Houses 2005, Dwell Magazine 07 - 08/2004, Atlas of Contemporary World Architecture 2004, Case di Vacanza 2004, Within Small Homes 2003, Mini House 2003, Interior World Magazine vol. 26, Dream Houses 2002, 20 Architetti per Venti Case 2002, 45 Under 45: Young Architecture 2002, 100 of the Wolrd Best Houses 2002, Ville Giardini vol. 377, Country Modern 2001, The House Book 2001, Four Rooms 02/2001, Monitor Magazine 01/2001, Abstract vol. 6/7, Architectura Viva 07-08/2001, Casabella vol. 688, Baumeister 12/2000, md international magazine of design 12/2000, The Architectural Review 07/2000;

JAPAN:

Shinkenchiku 75, Contemporary Architecture in Japan vol.4 2011, GA Houses 59 Project 1999, Stringent Selection : Architects Directory 2003;